Baahubali: The Beginning is a 2015 Indian bilingual epic historical fiction film directed by S. S. Rajamouli, produced by Shobu Yarlagadda and Prasad Devineni. The film was simultaneously made in Telugu and Tamil and dubbed into Hindi, Malayalam and French languages. Prabhas, Rana, Tamannaah and Anushka Shetty acted in lead roles while Ramya Krishnan, Sathyaraj, Nassar, Adivi Sesh, Tanikella Bharani and Sudeep appeared in supporting roles.
Baahubali: The Beginning is the most expensive production in the history of Indian cinema to date. Movie got released worldwide on the 10th of July 2015 to positive reviews from critics, and it recorded the highest-grossing opening for an Indian film at the box-office. The final part is scheduled for release in 2016.
Here are some dialogues from the epic movie Baahubali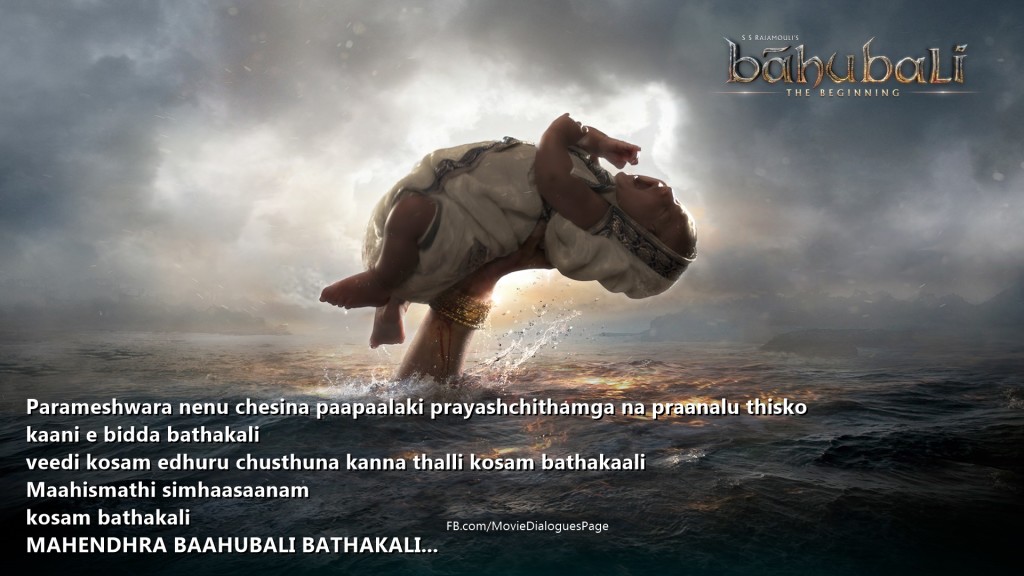 Parameshwara nenu chesina paapaalaki prayashchithamga na praanalu thisko
kaani e bidda bathakali
veedi kosam edhuru chusthuna kanna thalli kosam brathakaali
Mahismathi simhaasanam
kosam bathakali
Mahendhra baahubali bathakali  – Siva Gami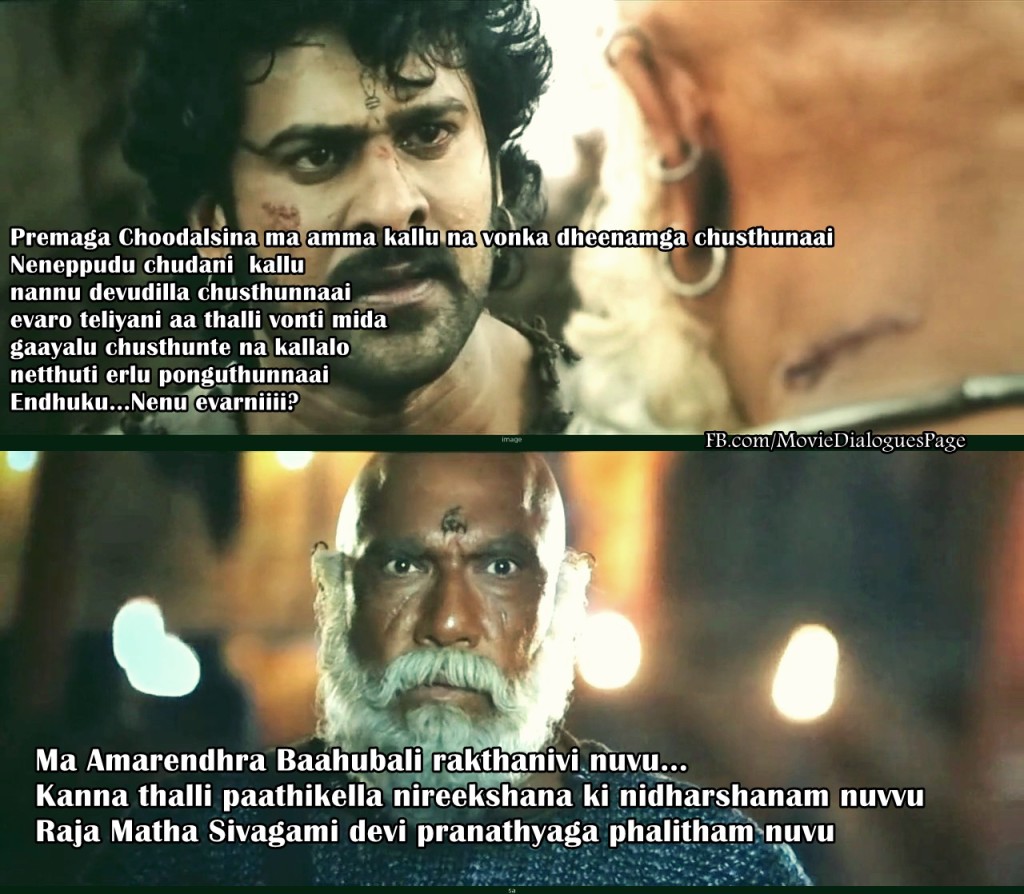 Premaga Choodalsina ma amma kallu na vonka dheenamga chusthunaai
Neneppudu chudani  kallu
nannu devudilla chusthunnaai
evaro teliyani aa thalli vonti mida
gaayalu chusthunte na kallalo
netthuti erlu ponguthunnaai
Endhuku…Nenu evarniiii?  – Shivudu ( Mahendhra Baahubali)
Ma Amarendhra Baahubali rakthanivi nuvu…
Kanna thalli paathikella nireekshana ki nidharshanam nuvvu
Raja Matha Sivagami devi Pranathyaga phatitham nuvu –  Kattapa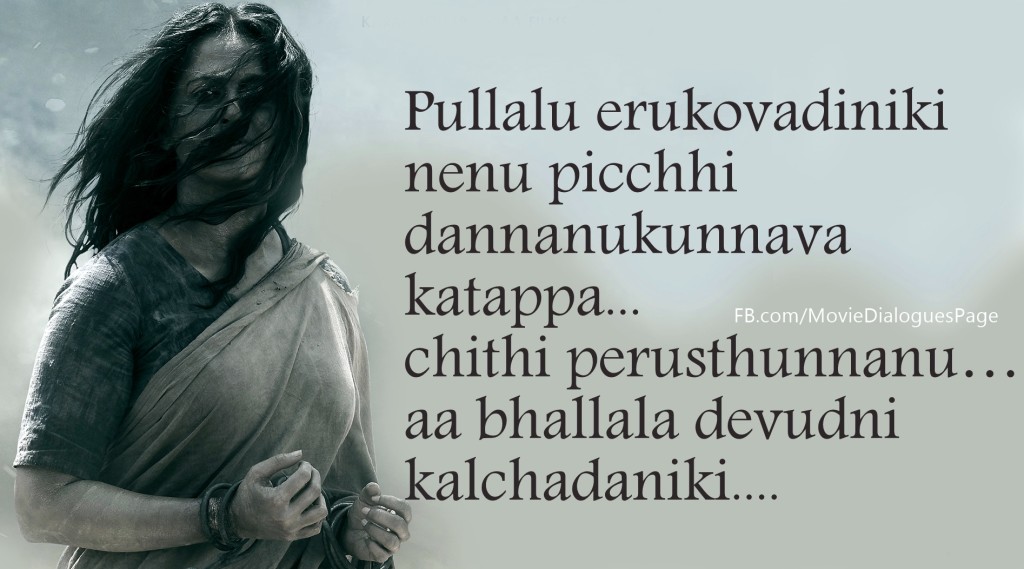 Pullalu erukovadiniki nenu picchi dannannukunnava katappa…
chiti perusthunnanu…aa bhallala devudini kalchadaniki – Devasena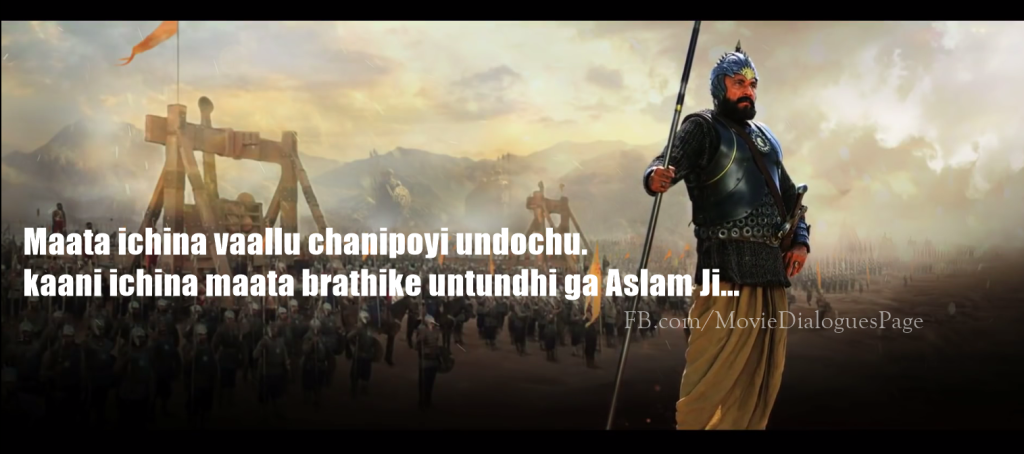 Maata ichina vaallu chanipoyi undochu.
kaani ichina maata brathike untundhi ga Aslam Ji… Kattapa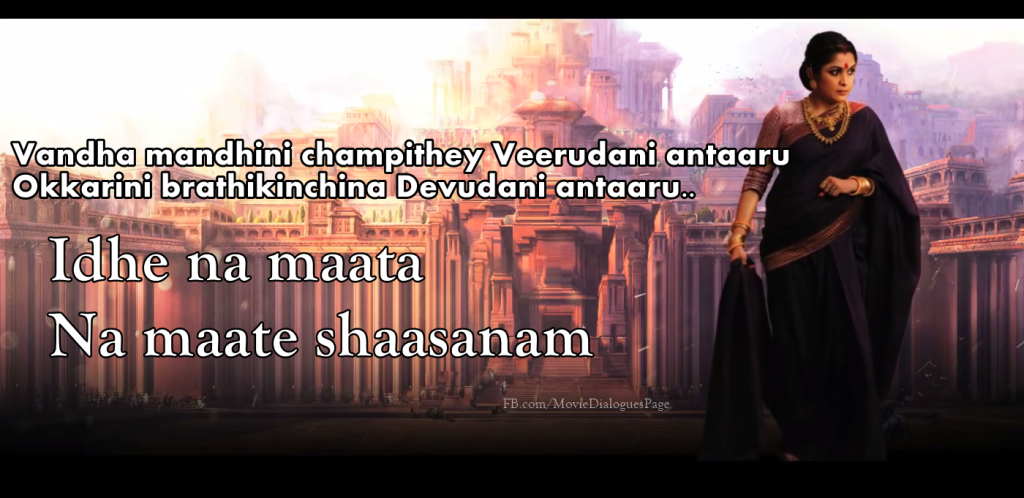 Vandha mandhini champithey veerudani antaaru..
Okkarini brathikinchina devudani antaaru  – Sivagami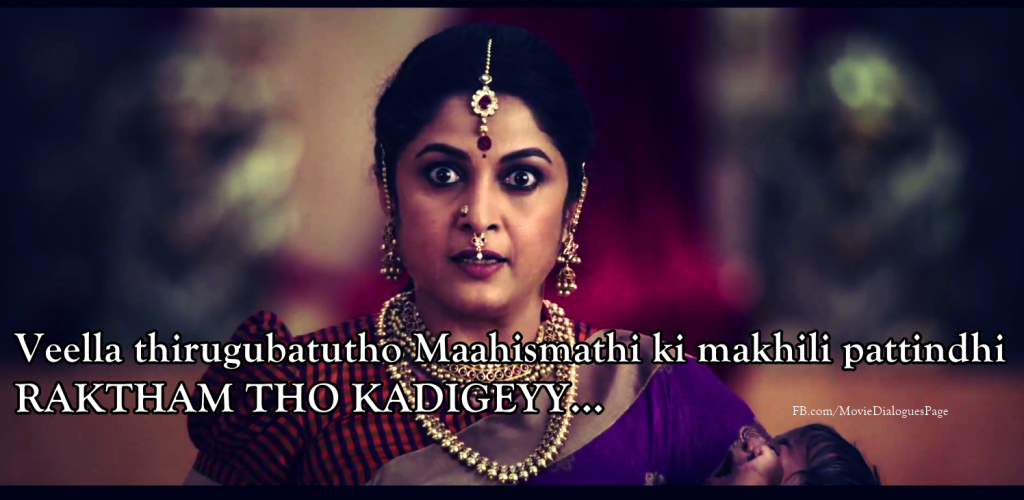 Veella thirugubatutho Mahismathi ki makhili pattindhi
RAKTHAM THO KADIGEYY,…  Sivagami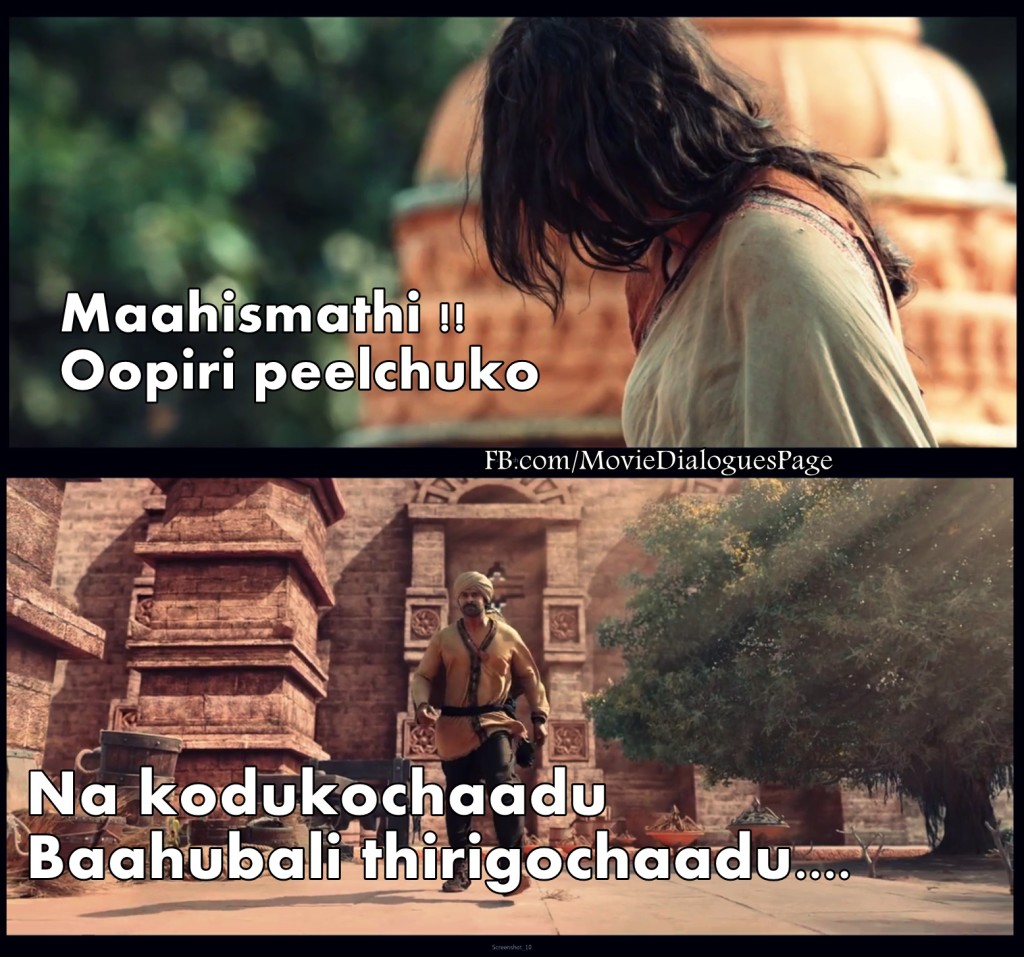 Maahismathi Oopiri peelchuko
Na kodukochaadu
Baahubali thirigochaadu…. – Devasena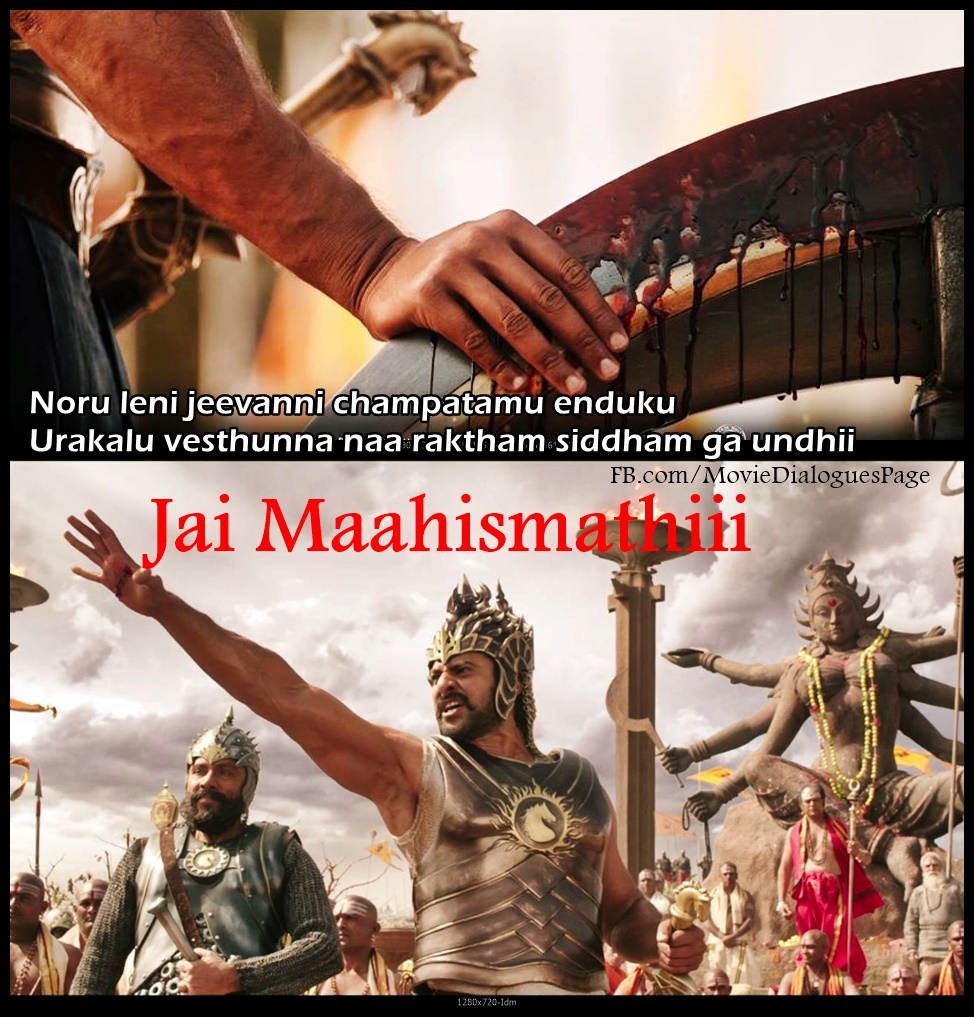 Noru leni jeevanni champatamu enduku
Urakalu vesthunna naa raktham siddham ga undhii
Jai Maahismathiii – Baahubali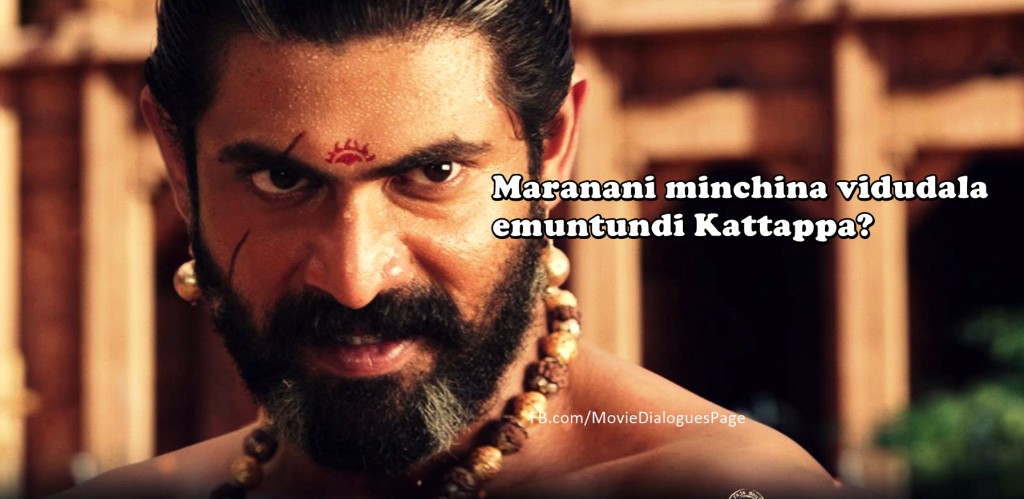 Maranani minchina vidudala emuntundhi Kattapa? – BhallalaDeva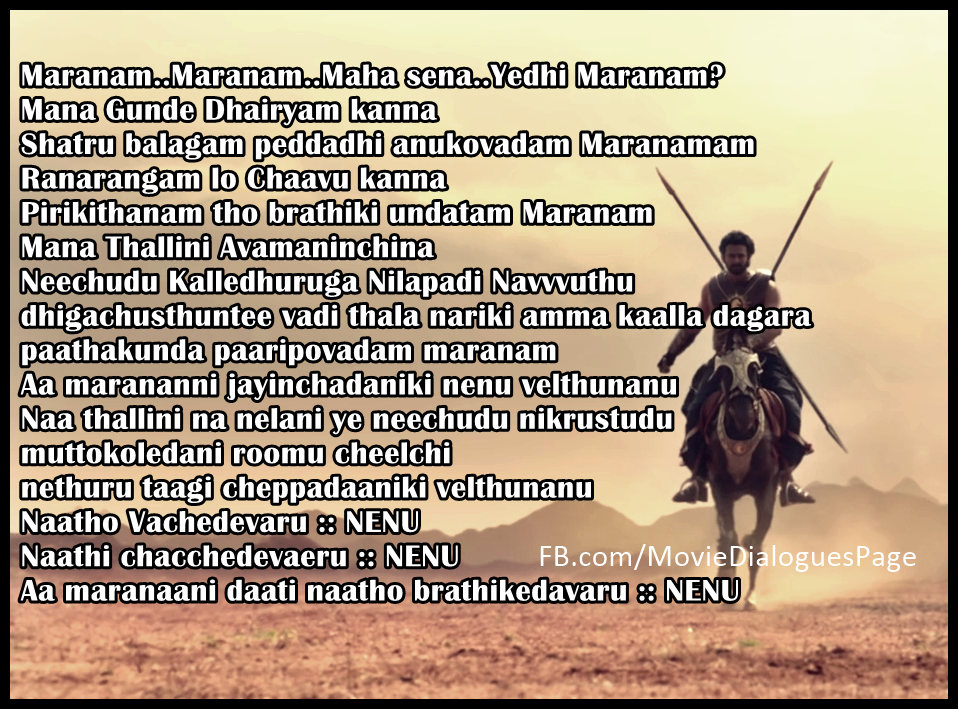 Maranam..Maranam..Maha sena..Yedhi Maranam?
Mana Gunde Dhairyam kanna
Shatru balagam peddadhi anukovadam Maranamam
Ranarangam lo Chaavu kanna
Pirikithanam tho brathiki undatam Maranam
Mana Thallini Avamaninchina
Neechudu Kalledhuruga Nilapadi Navvvuthu
dhigachusthuntee vadi thala nariki amma kaalla dagara
paathakunda paaripovadam maranam
Aa marananni jayinchadaniki nenu velthunanu
Naa thallini na nelani ye neechudu nikrustudu
muttokoledani roomu cheelchi nethuru taagai cheppadaaniki velthunanu
Naatho Vachedevaru : nenu
Naathi chacchedevaeru: nenu
Aa maranaani daati naatho brathikedavaru :: NENU
And last but not least, Kalakeya Kilikili dialogue: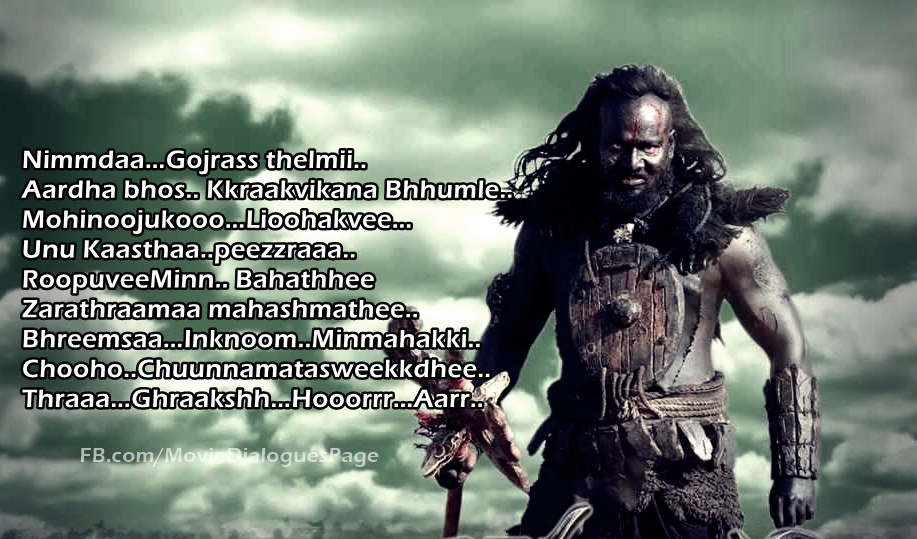 Nimmdaa…Gojrass thelmii..
Aardha bhos.. Kkraakvikana Bhhumle..
Mohinoojukooo…Lioohakvee…
Unu Kaasthaa..peezzraaa..
RoopuveeMinn.. Bahathhee
Zarathraamaa mahashmathee..
Bhreemsaa…Inknoom..Minmahakki..
Chooho..Chuunnamatasweekkdhee..
Thraaa…Ghraakshh…Hooorrr…Aarr..
Please comment your favorite dialogue.
Thanks