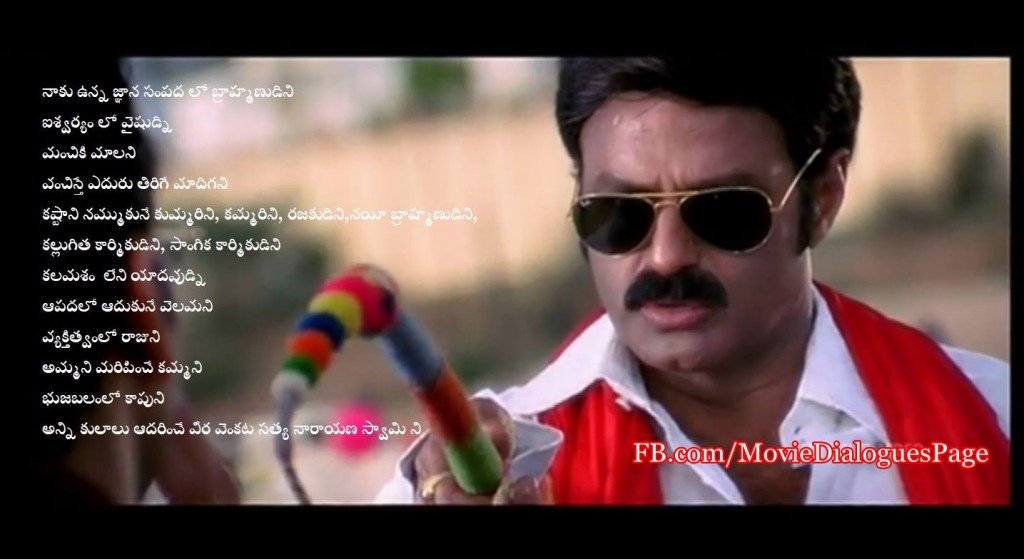 Nandamuri Balakrishna is well known for his dialogue delivery. Here is one sample of his greatest works.
The below dialogues are from the movie " Okka Magadu"
నాకు ఉన్న జ్ఞాన సంపద లో బ్రాహ్మణుడిని
ఐశ్వర్యం లో వైషుడ్ని
మంచికి మాలని
వంచిస్తే ఎదురు తిరిగే మాదిగని
కష్టాని నమ్ముకునే కుమ్మరిని, కమ్మరిని, రజకుడిని,నయీ బ్రాహ్మణుడిని, కల్లుగిత కార్మికుడిని, సాంగిక కార్మికుడిని
కలమశం  లేని యాదవుడ్ని
ఆపదలో ఆదుకునే వెలమని
వ్యక్తిత్వంలో రాజుని
అమ్మని మరిపించే కమ్మని
భుజబలంలో కాపుని
అన్ని కులాలు ఆదరించే వీర వెంకట సత్య నారాయణ స్వామి ని
In English:
Naku vunna gnana Sampadha lo Brahmanudini,
Aishwaryamulo Vyshyudini
Manchi ki Mala ni,
Vanchistey eduru terige Madiga ni,
Kastaani nammukune kummari ni,Kammari ni, kamsaludini
Rajakudini,Nayee brahmanudini,kallu geeta  Sangika Karmikudini,
Kalmusham leni Yadavudi ni,
Aapada lo adukune Velama ni,
Vyekthithvam lo Raju ni,
Ammani maripinche kamma ni,
Pourusham lo Reddy ni,
Bhuja balam lo Kapu ni…
Anni kulalu adarinche Veera Venkata Satya narayana Swamy ni..!!