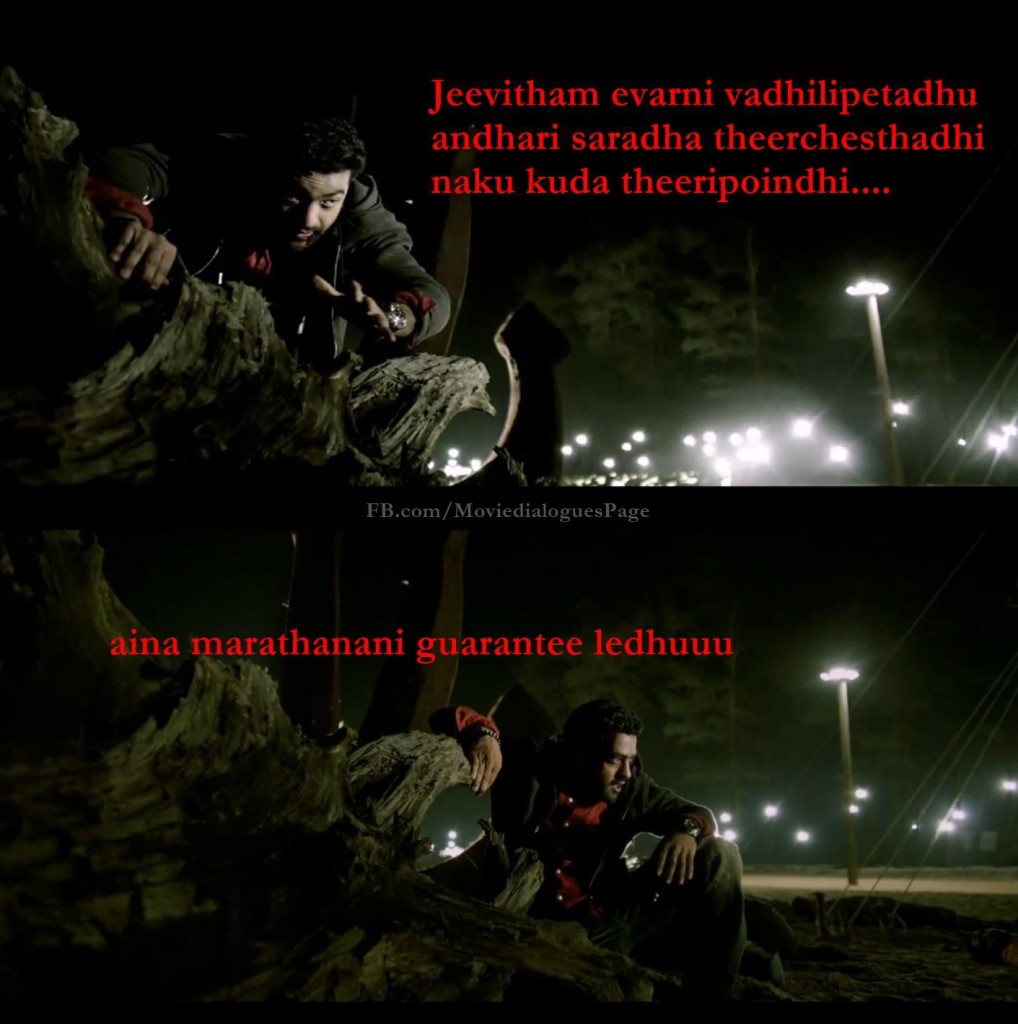 Temper is a 2015 Telugu action crime based movie directed by Puri Jaganath starring Jr.NTR and Kajal agarwal.  It was produced by Bandla Ganesh on Parameswara Art Productions banner. Anoop Rubens composed the soundtrack while Mani Sharma composed the background score. From the first day of release, Temper movie received good response all over. Dialogues penned by Puri are special attraction to this movie.
Here are few dialogues from Temper movie
Naa peru daya. Naaku lenide adi – NTR

Jeevitham evarni vadhilipetadu
andhari saradha theerchesthadhi
naku kuda theeripoindhi
aina marathanani guarantee ledhuuu

Think BiG ra
Think BIGGgandi…

Baamma garuuuu korea ante ekkadooo ledhandii??
mana vizag nundi ship eskoni
north ki velthe NORTH KOREA
south ki velthe SOUTH KOREA

Murthy evadu adu na music system ni touch chesthunadu .. adigoo flute kuda odhesthunadu

NTR sms to Prakashraj: East or west friendship is the best… manadi anna thammula saval kaadhu anna thammula anubandhammm

NTR from Hyd: Naaku vere state ki transfer aindhi
Raghubabu: E state?
NTR: Seemandhra, VIZAGGG

Dayaa : nenu gandhi garini chudaledu. meelanti gandhi,station ki okadunte chalu sir
Moorthy : meelanti officer desaniki okadunte chalu sir.

NTR to Tanikella bharani:
meeru nanu kodithe
nenelli vallani kottali
koduku thappu cheste kotakunda chustarenti nanna ?
kottandi nanna nannu

Ntr : Iddaru Kottukunte Yuddam, Ade Okkade Meedadipopthe Dandayathra….Edi Daya gadi Dandayathra.
Prakashraj: Rey naku kopam tepinchaku lopala na ego hurt avthundi
Ntr : Neeku lopala untundemo naku chuttu wifi laga untundi
Username: Daaya Password Policeee

Aithe atu undu..ledhante itu undu..nee laga madhya lo unde valu vala ee desaniki kadhu kada ne family ki kuda upoyogam undadhu murthy…

Full ga tagesi unannu..Individual ga concentrate cheyalenu..Koncham cooperate cheyandamma – NTR

Oka ammai ni chudagane memu ventane rape cheyagalm
Miru ventane mamalni sikshinchagalara sirr??
veyyaleruuu…andhuke i love my country

 

Desam lo jarige prati kumbakonam nannu inspire chesedi. ayyo indulo nenu lene ani baadha padevadini.

motttaniki dabbulichi degree konesa.
naa adrushtam bagundooo
mee karma kaalo nenu SI aipoya….POLICE aipoya.
Please comment your favorite dialogue in the below comments. We will add to this list.
Thanks