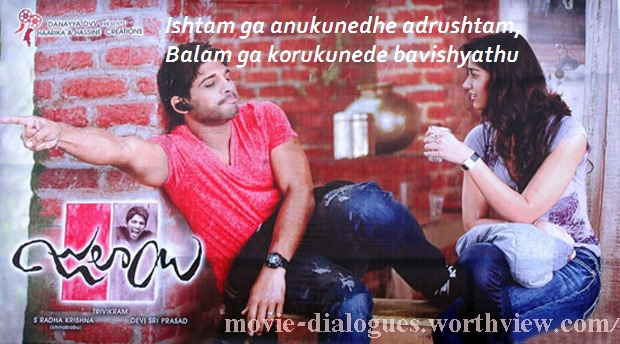 Julai is a 2012 Telugu action comedy film written and directed by Trivikram Srinivas. The film stars Allu Arjun, Ileana D'Cruz and Rajendra Prasad in lead roles. The film was produced by S. Radha Krishna under Haarika & Hassine Creations Banner and was presented by D.V.V. Danayya. Devisri composed music for this film, who previously worked with Trivikram on Jalsa. The film was released worldwide on over 1600 screens on August 9, 2012.
Some of our favorite dialogues from Julayi:
Ravi (Allu Arjun): Logic lu evaru nammaru..andariki magic le kaavaali. Anduke mana desam lo scientistla kannaa baaba le famous

Bittu(Sonu sood): Manaki Telsina pani free ga cheyakudadhu, Manaki raani pani try cheyakudadhu

Ravi (Allu Arjun): Ishtam ga anukunedhe adrushtam, Balam ga korukunede bavishyathu

Varadharajulu: pathikela kurradu ra ne battalu udadhisi parigethistuhunadu..velli, without sugar vadi sanka naaku..siggu lekunda vachi kurchunadu
Bittu (Sonu sood):Pellam pakkana unapudu mogudu vere ammai ki line vesthe adhi entha badha paduthundo telsua..na edhuraga vadini pogidithe naku alage anipinchindhi

Bittu(Sonu sood): Handicap valani comment cheyakudadhu..thappu, thappu adhi

Ravi (Allu Arjun): Baanam vese vadiki botanavelu, triger nokke vaadiki chupudu velu tiseste deniki panikiraadu

Brahmi: Polam lo veyalsina kanche enti dheeni pallakesaarenti

Madhu (Illeyana): Life boy, hmmmm…naa life lo life ledhu boy ledu

Varadharajulu: Neelantodne thalanoppi pettinchadante vadu amruthanjan amma mogudai untadu

Ravi (Allu Arjun): Maa nanna kotte debbalaku pillaliki lekkalostayo levo telidu kaani bittu gaadu kodte matram maa nanna cheppestadu

Ravi (Allu Arjun): Bathroom lo bactiriya chavalante Acid poyali babai, scent kottakudadhu

software lo khali ledu….
hardware lo growth ledu…
real estate lo rowdy lu ekuva….
construction lo salary lu takuva.

 

Nenu anukunavi ani jarighte nenu CM avali ani korukunta kani vadu gelavali veedu gelavali ani endhku korukuntanu….

ACP: Dhairyam ga undadam manchidekaani jaagratha ga undadam thappu kaadu ga

Madhu (Illeyana) parents: Devathala chusukuntam
Ravi (Allu Arjun):ante nyvedyam chupinchi prasadam dobbestaara??…manishila chudandi chalu

Ravi (Allu Arjun): Nenu pidikili Bigisthey Gaali kooda Voopiraadaka chasthundi

Ravi (Allu Arjun): Karuvu vocchina Country ki Ambassidor laaga vundi

Class lo unappudu evadaina answer chepthadu
kani exam Lo rasevade toper avuthadu

Ravi (Allu Arjun):Aasa Cancer vunnodini kooda Bathisthundi—Bhayam Ulcer Vunnodini kooda Champesthundi

Last but not least :

LIFE oka highway
Success one way
Shortcuts ki NO WAY!!!!