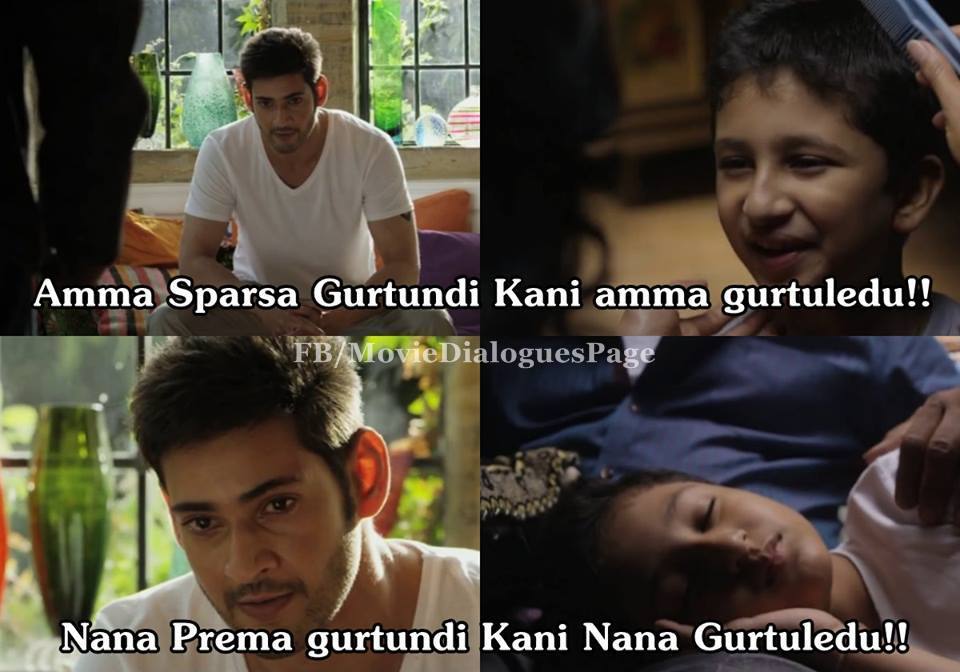 '1'-Nenokkadine is a 2014 Telugu thriller film directed by Sukumar, produced by Ram Achanta, Gopichand Achanta and Anil Sunkara under 14 Reels Entertainment. The film stars Mahesh Babu and Kriti Sanon in lead roles.  Devi Sri Prasad has composed the soundtracks who have worked with Sukumar before for all of  his previous movies.  The film was released worldwide on 10 January 2014 and started with a divide talk. Shortly after its release, 20 minutes were chopped from the film's run time.
Here are few dialogues from the movie : '1' Nenokkadine
— "చూడు చిన్న..
మీ అమ్మ చచ్చిపోయింది..
ఇకనుండి నువ్వు అమ్మ లేకుండా ఆడుకోవాలి..
అమ్మ లేకుండా తినాలి..
అమ్మ లేకుండా పడుకోవాలి.. అన్ని అమ్మ లేకుండానే.."

— ప్రేమ అని నటించిన అమ్మాయి…….బాధని కూడా నటించగలదు!

— AC లేకుండా "Star/Hero" ఉంటాడేమో కానీ….Fan(అభిమాని) లేకుండా "Star/Hero" ఉండడు…!!!!

— Prema Kanna Bayam Goppadhemo sameera
Chinapati nunchi vallu nanu tharumuthune unaru
vaallu epudu champestharo ani bayamtho valani gurthinchukuna
kani amma naana ela untaro marhcipoyanu
Amma sparsa gurthundhi kaani amma gurthu ledhu
Naana prema gurthundhi kaani naana gurthuledu
chivariki vaalu naku gnapakam ga kuda migaledu

— Andharu ane abadhaniki
Nenu namme nijaaniki
dhagaraga velthuna

— Naaku kavalsindhi naaku telisina kadha kaadhu…teliyani kadha

— Nirupinchalenidantha abadham kaadhu
nirupinchindhi antha nijam kaadhu

Interval Scene:

Malli vachesadu eedu
Kurcho raa… ippudu ne gurinchi nenu kurchi oohinchukolenu
.
.
Nuvu upiri pilchukodam vala brathakadamla nenu oohinchukodam vala brathukuthunav
.
.
doctor evo golilu ichadu raa ivi vesukunte nuvu mayamaipotav anta
Nen emantanantey e goli vesukuney mundu e goli tho ninnu champestha
revenge story kada commercial ending untadi em antav ah …BANG

Sameera : enti aa sound
gautam : champesa..

after 2 sec…

gautam : sound rakudadee…..

sameera : aaaaaaaaaaaaaaaaaa

gautam : sameera, vadu niku kanapaduthunada…??
sameera : avunu..

gautam : aiethe naku gatham vundi sameera..
vadu kuda nijam anni chepadu..nenu vinaledu..
ray..lera…..rayy…..lera
aaaaaa chaaaaaa….
chachi poyadu sameera vedu…
nijam chepakunda chachipoyadu..

Please comment your favorite dialogue here!