Srimanthudu is a 2015 Telugu drama film written and directed by Koratala Siva, under Mythri Movie Makers. Mahesh Babu  and Shruti Hassan paired up for the first time for this movie. Jagapati Babu, Rajendra Prasad, Sampath Raj, Sukanya and Harish Uthaman appear in supporting roles. After a blockbuster hit Mirchi, Koratala Siva hits the bulls eye again with strong script of Srimanthudu. Dialogues and Screenplay for this movie also written by Koratala Siva himself. Devi Sri Prasad composed the music for this movie.
Here are few strong dialogues from the movie Srimanthudu
Na Peru Harsha. Na daggara Lenidhi Ledu Antuntaru, Kani Naku kavalisindhi inka edo undi. Danikosam entha dooram ayina Vellali Anipisthuntundhi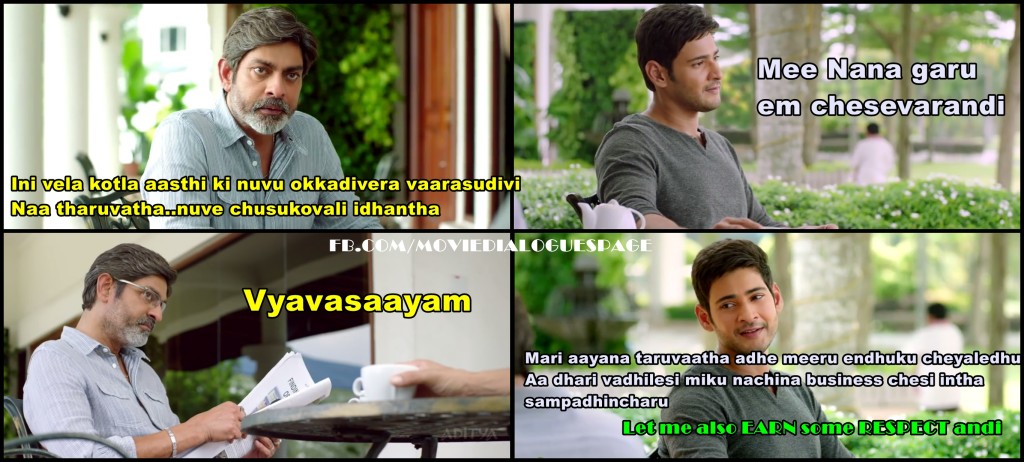 JB:Ini vela kotla aasthi ki nuvu okkadivera vaarasudivi  Naa tharuvatha..nuve chusukovali idhantha
MB: Mee Nana garu em chesevarandi
JB: Vyavasaayam
MB: Mari aayana taruvaatha adhe meeru endhuku cheyaledhu
Aa dhari vadhilesi miku nachina business chesi intha
sampadhincharu
let me also earn some respect andi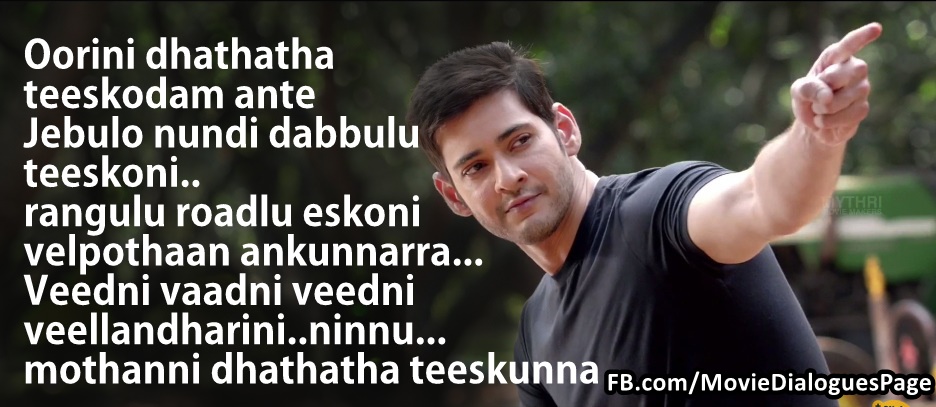 Oorini dhattatha theeskodam antey jebulo nundi dabbulu theesi rangulu, roadlesi elipothaanannukunnara.
Veedni, vaadni, vaadni, vaadni, veellandarni.. ninnu motthaanni dattatha theeskunna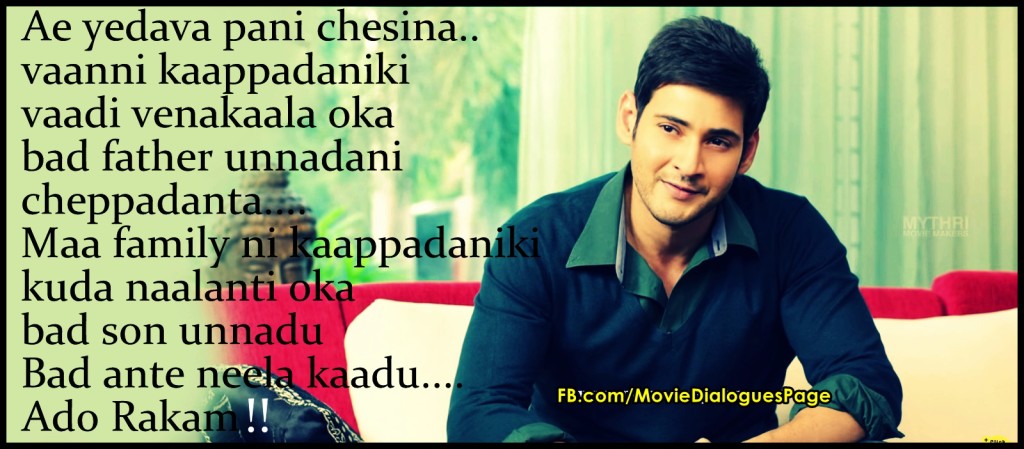 Ye Edava Pani Chesina Vadini Kapadataniki Vadi Enakala Oka Bad father vunnadani cheppadanta, maa family ni kapadataniki kuda naa lanti bad son okadunnadu, bad ante neela kadu .. ado rakam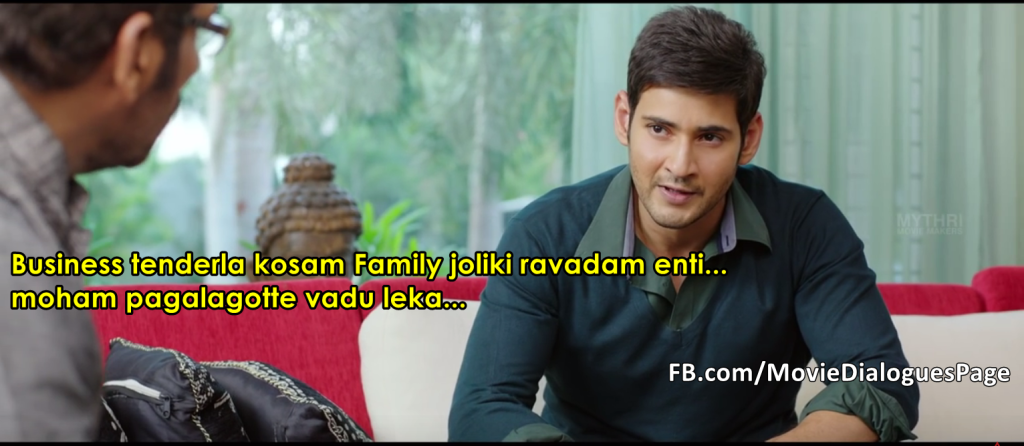 Business tenderla kosam Family joliki ravadam enti…
moham pagalagotte vadu leka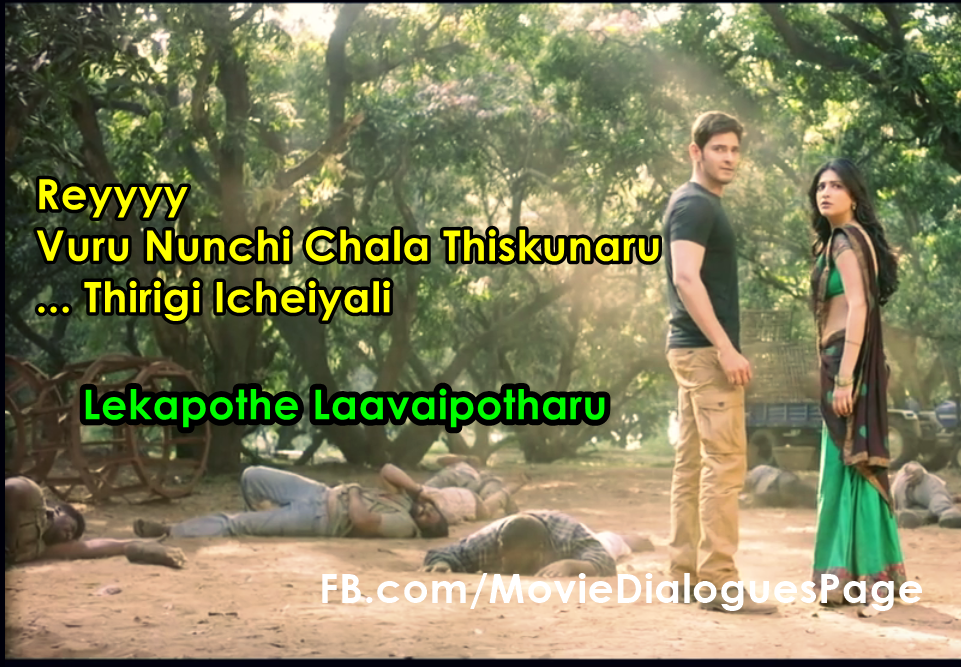 Reyyy…Vuru Nunchi Chala Thiskunaru… Thirigi Icheiyali Lekapothe Laavaipotharu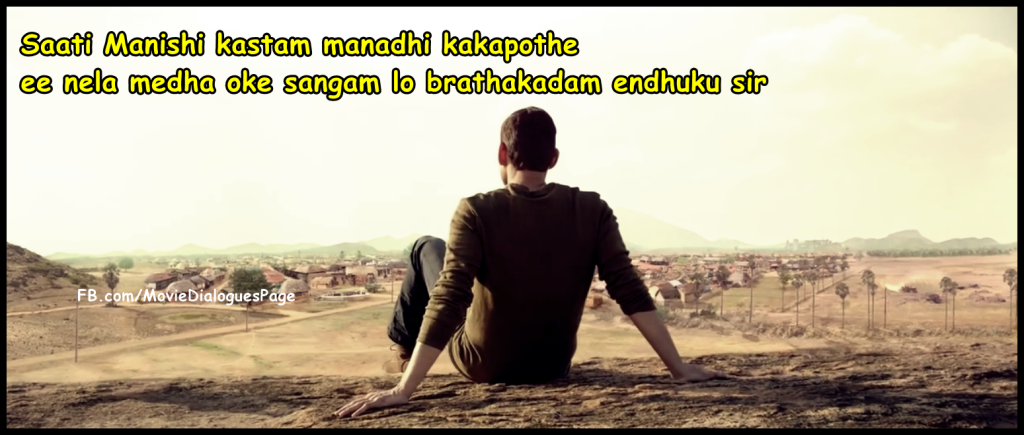 Saati Manishi kastam manadhi kakapothe ee nela medha oke sangam lo brathakadam endhuku sir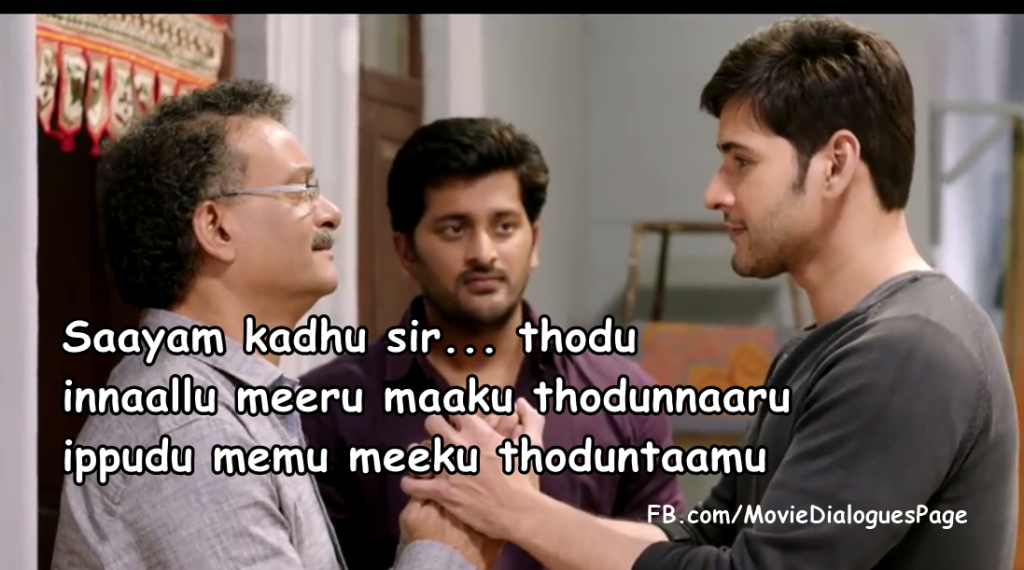 Saayam kadhandi thodu
innaallu meeru maaku thodunnaaru
ippudu memu meeku thoduntaamu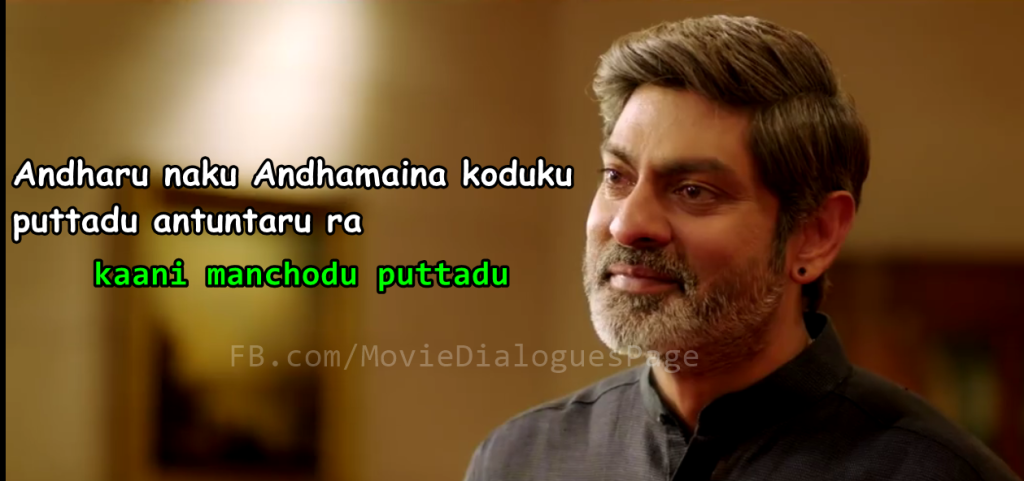 Andharu naku andhamaina koduku puttadu antuntaru ra
kaani manchodu puttadu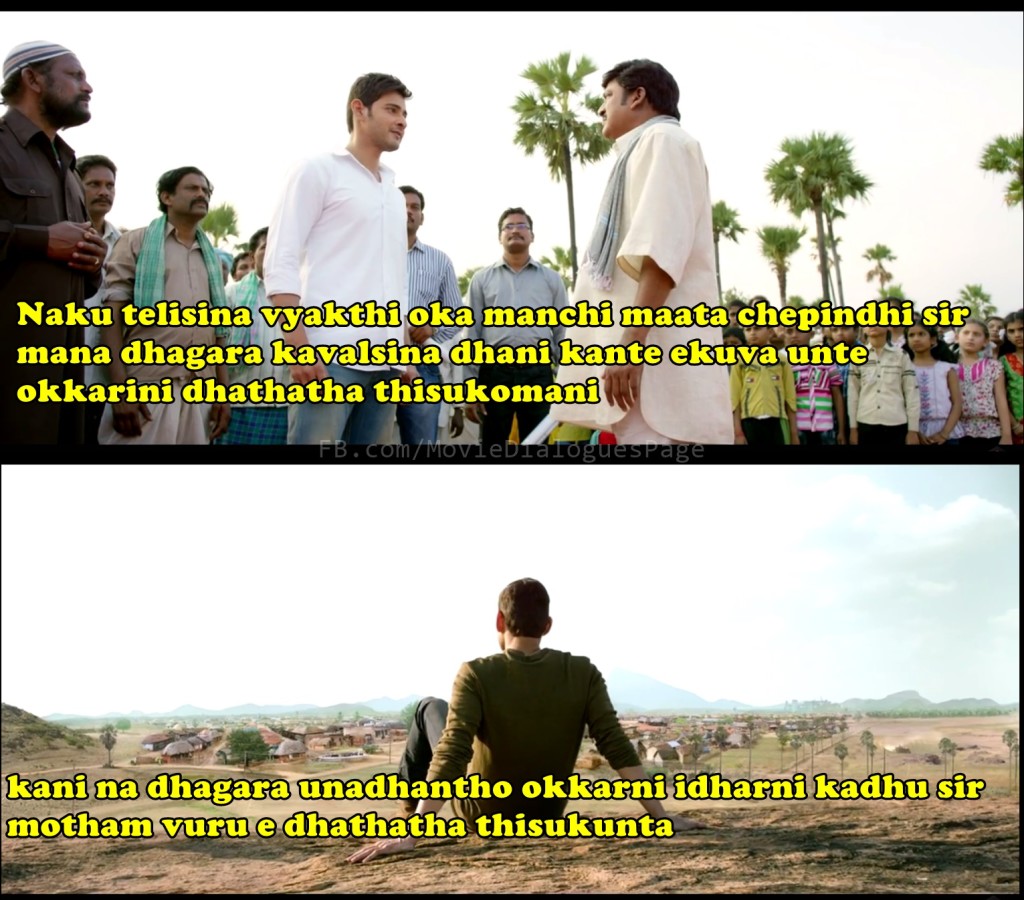 Naku telisina vyakthi oka manchi maata chepindhi sir
mana dhagara kavalsina dhani kante ekuva unte okkarini dhathatha thisukomani
kani na dhagara unadhantho okkarni idharni kadhu sir motham vuru e dhathatha thisukunta
And the Climax scene:
Mahesh: inka inka nalage maralani undi ani.
JB: ninnu aa oori ninchi dooram ga teeskochesanu..inka em kavali ra..
Mahesh: nannu aa oori nindi teeskochesaru ..kani nalonchi ooruni teeyalekapothunnaru.
JB: Nee family ikkade undi..nee vallu ikkade unnaru..antha inkkade undi.
Mahesh: kani na pranam akkadundandi. Ide na kutumbam ani eppudu anipinchaledu..saati manishi evaru kashtam lo unna na kutumbame anipistundi..sorry to say this.
pathikella kritam edagatam ante manamokkallame kadu..mana chuttu unna vallu kuda edagatam ani chepparanta..vinatanike intha bagunte, chesi chusthe inkentha goppaga untado
manam chese darilo okato rendo debbalu tagalachandi.em cheyakunda intlo tirigithe kuda debbalu taguluthayi.
ooru okka mata noru jarindani kopam tho oorodili vachesaru..kani aa oori janam kuda ma oori ravi goppodayyadu ani mana kanna garvam ga cheppukuntunnarandi. they are also our family.
oorini vadilesina pantham tho rathi pagallu kashtapadi kotlu sampadincharu..gunde meeda cheyyesi cheppandi..enni sarlu oorini oori janalani talachukoledu
meeru pathika vela kotlu sampadincharu.. nenu danni yabhai vela kotlu cheyali..cheyalenandi..
paiga meerinchina dantho aido pad andariki pancheddamanipistundi..
office kelli kurchuntunna andi..polaniki neellu leka deenam ga cheruvu vaipu kurchune raithu kanipistunnadu..bhojanam cheddamani kurchuntunnanadi..aakalitho ooru vadili valasa vellipotunna kutumbalu kanipistunnayi.. na valla kavatledu andi
ikkade untu nenu badha padutu ..mimmalni badhapedtu untanu..akkada unte andarini santosha pedutu untanu…meeru janma ni icharu kadananu..kani dnaikosam jeevitantam mee munde undi mimmalni ananda parachaledu
veelunte pandagako pabbaniko vacheltuntanu..I am not a good son. ee okka janma ki nannnu vadileyandi. please.