Nannaku Prematho is a 2016 Telugu action family drama film written and directed by Sukumar and produced by B. V. S. N. Prasad featuring NTR and Rakul Preet Singh in the lead roles while Jagapati Babu and Rajendra Prasad played crucial supporting roles. With this movie, Jr. NTR completed 25 films in telugu as an actor. Devi Sri Prasad has composed some wonderful tunes for the film's music and background score. The cinematography is provided by Vijay C Chakravarthy and Navin Nooli edited the film.  Sukumar well known for his in-depth dialogues impressed with this movie too. After Nenokkadine with Mahesh babu, Sukumar worked for the first time with Jr. NTR and the chemistry between hero and director worked out really well.
Here are some dialogues from the movie Nannaku Prematho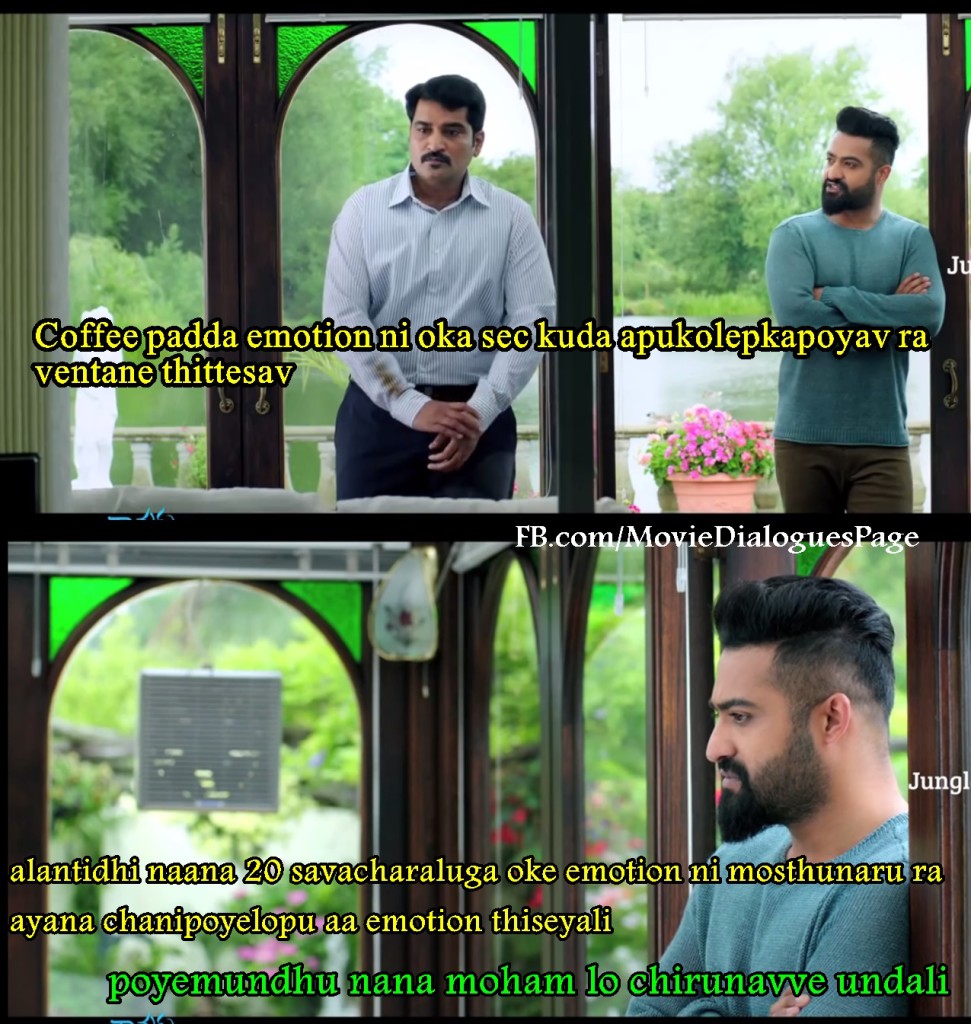 Coffee padda emotion ni oka sec apukolepkapoyav ra
ventane thittesav
alantidhi naana 20 savacharaluga oke emotion ni mosthunaru ra
ayana chanipoyelopu aa emotion thiseyali
poyemundhu nana moham lo chirunavve undali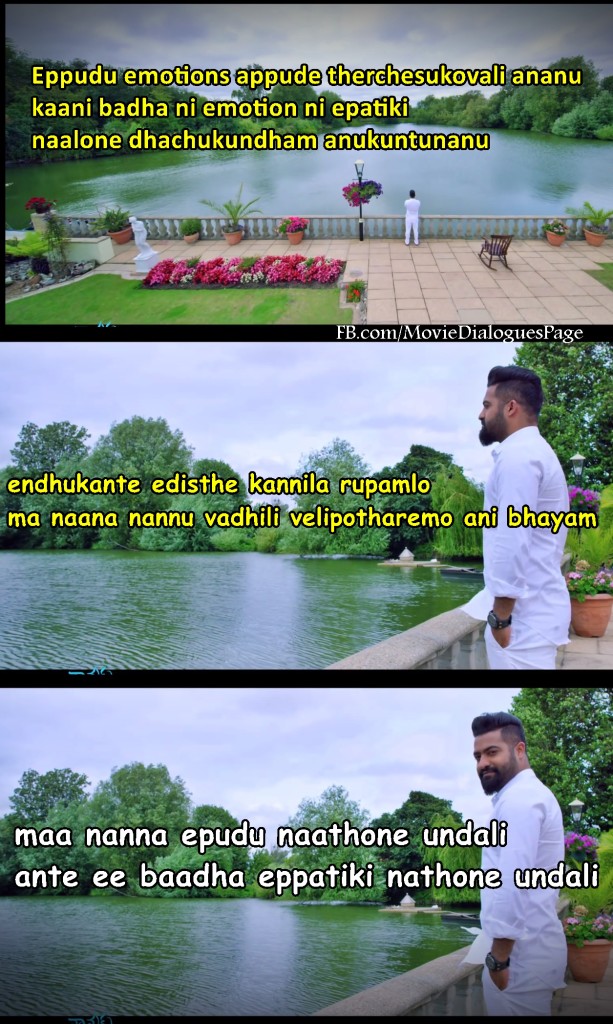 Eppudu emotions appude therchesukovali ananu
kaani badha ni emotion ni epatiki nalone dhachukundham anukuntunanu
Endhukante edisthe kannila rupamlo ma naana nannu vadhili velipotharemo ani bhayam
maa nanna epudu naathone undali
ante ee baadha nathone undali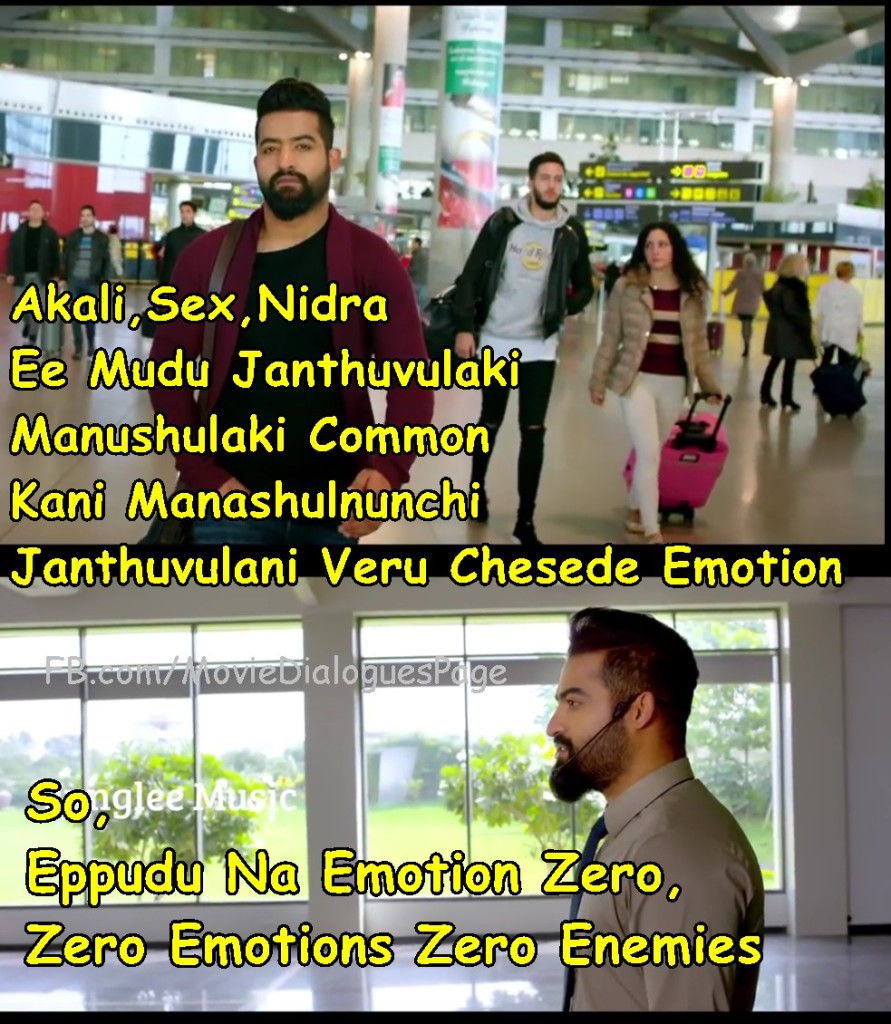 Akali,Sex,Nidra
Ee Mudu Janthuvulaki Manushulaki Common
Kani Manashulnunchi Janthuvulani Veru Chesede Emotion
So, Eppudu Na Emotion Zero, Zero Emotions Zero Enemies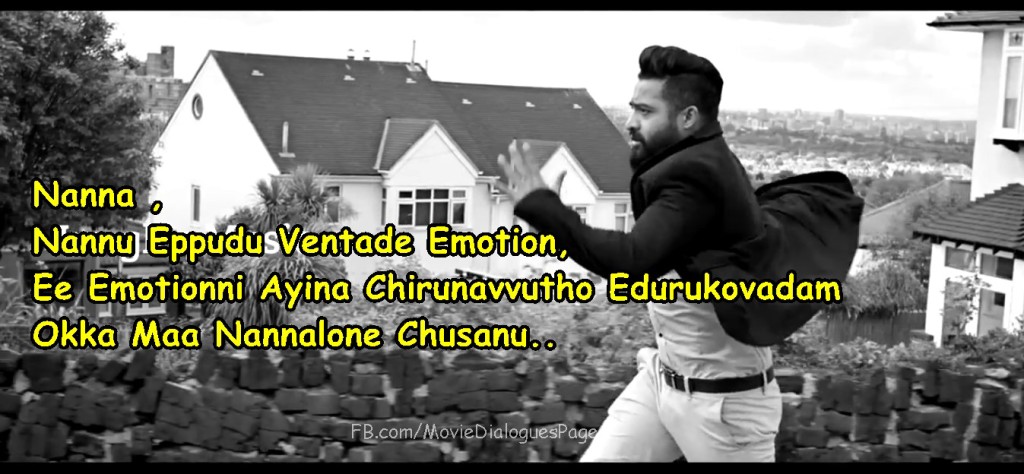 Nanna ,
Nannu Eppudu Ventade Emotion,
Ee Emotionni Ayina Chirunavvutho Edurukovadam
Okka Maa Nannalone Chusanu..
Sorry Krishnamurthy Garu.. Nenu Idi Antha Chesindi Mee Meeda Kopam Tho Kadu.. Maa Nanna Meeda Prematho..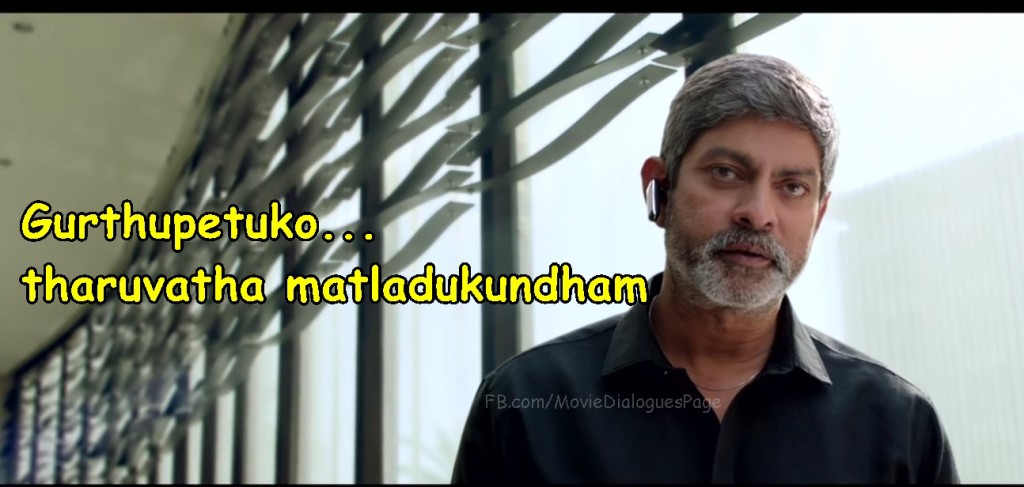 Gurthupetuko…
tharuvatha matladukundham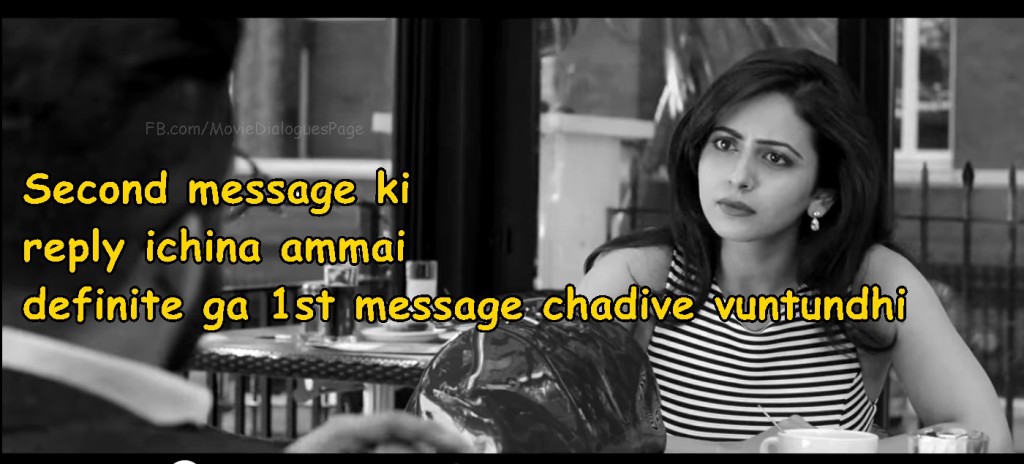 Second message ki
reply ichina ammai
definite ga 1st message chadive vuntundhi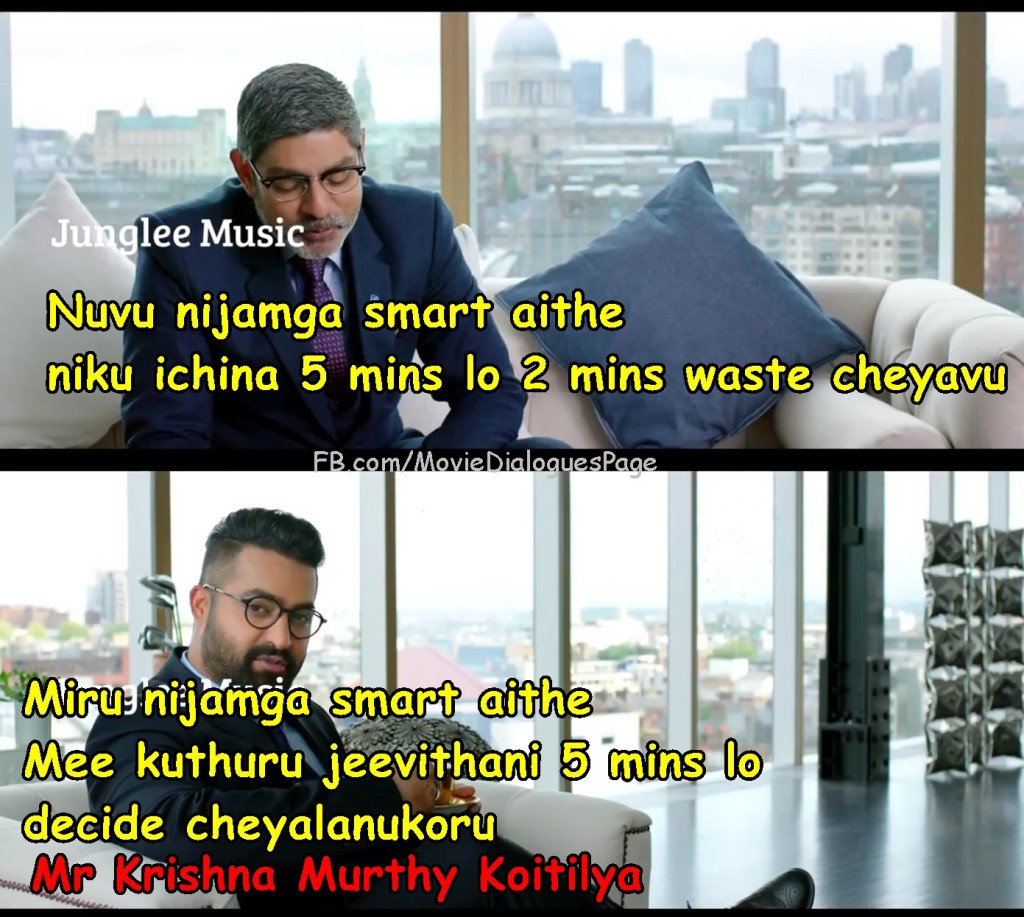 Nuvu nijamga smart aithe
niku ichina 5 mins lo 2 mins waste cheyavu
Miru nijamga smart aithe
Mee kuthuru jeevithani 5 mins lo decide cheyalanukoru
Mr Krishna Murthy Koitilya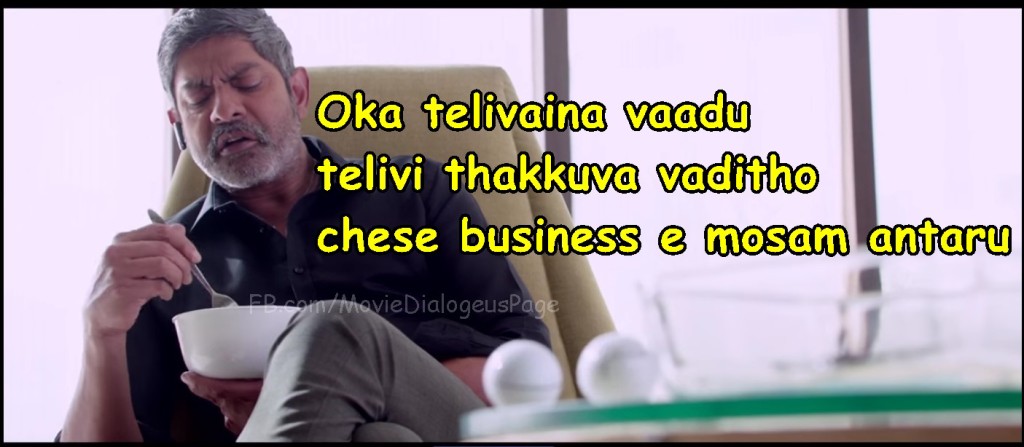 Oka telivaina vaadu
telivi thakkuva vaditho
chese business e mosam antaru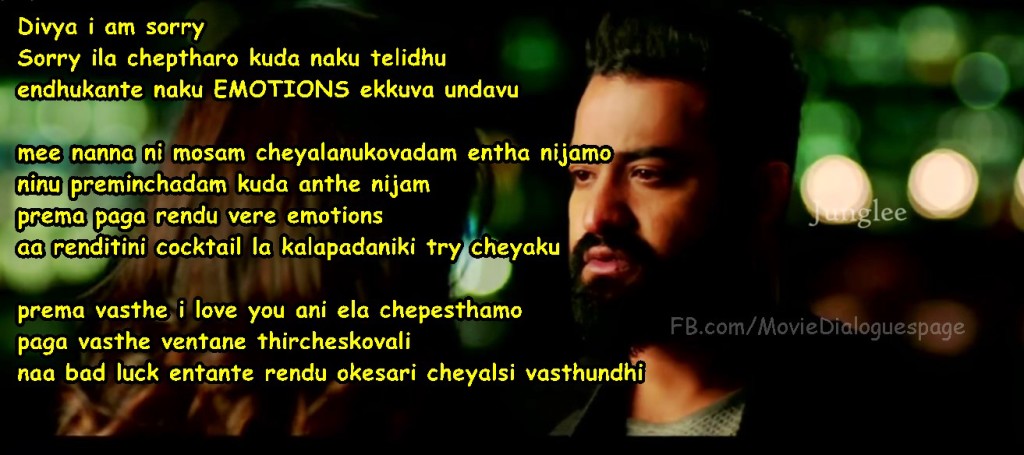 Divya i am sorry
Sorry ila cheptharo kuda naku telidhu
endhukante naku emotions ekkuva undavu
mee nanna ni mosam cheyalanukovadam entha nizamo
ninu preminchadam kuda anthe nizam
prema paga rendu vere emotions
aa renditini cocktail la kalapadaniki try cheyaku
prema vasthe i love you ani ela chepthamo
paga vasthe ventane thircheskovali
naa bad luck entante rendu okesari cheyalsi vasthundhi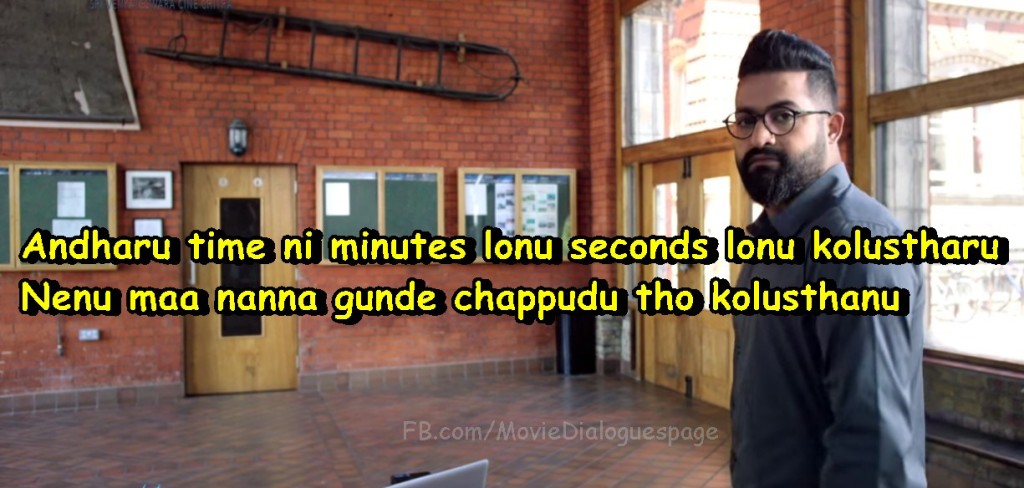 Andharu time ni minutes lonu seconds lonu kolustharu
Nenu maa nanna gunde chappudu tho kolusthanu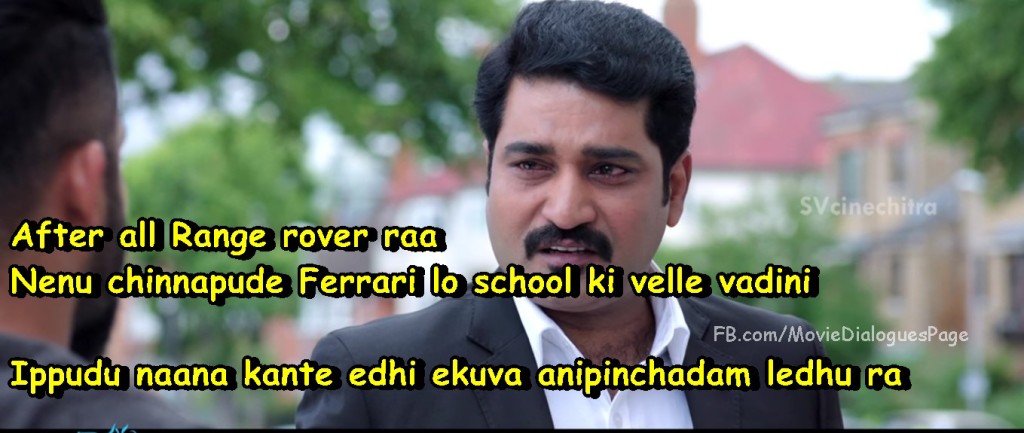 After all Range rover raa
Nenu chinnapude Ferrari lo school ki velle vadini
Ippudu naana kante edhi ekuva anipinchadam ledhu ra