Gabbar Singh is one special movie for Pawan kalyan fans which became blockbuster after 10 years of continuous fails for Pawan Kalyan. All credit should go to film director Harish Shankar. The film is produced by Bandla Ganesh under Parameswara Art productions banner. Devi Sri Prasad, who previously worked with Pawan Kalyan in Jalsa, composed the soundtracks for the film. Though this film is an adaptation of the 2010 Hindi film Dabangg, script is modified to suit our Telugu nativity. Harish has done a fabulous job in showing Pawan kalyan in such a powerful character . The film was released worldwide on May 11, 2012.
Here are some dialogues from the movie Gabbar Singh: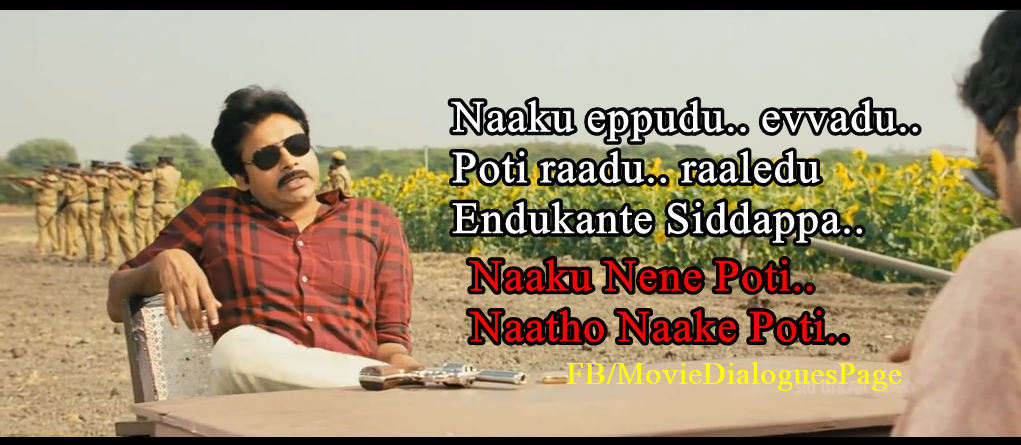 Gabbar singh (pawan kalyan) : Naakkonchem Tikkundi.. Kaanee DaanikO Lekkundi..
—————————————————————————————–
Siddhappa: Mavayya intha bayapaduthunadu, vadini champuthadu antava
Siddhappa mavayya(tanekela bharani): e prapancham lo chala murderlu bhayam tho chesinane alludu
—————————————————————————————–
Siddhappa mavayya(tanekela bharani): Balam leni manishi untademo gani balaheenatha leni manishi undadu
—————————————————————————————–
Gabbar singh (pawan kalyan) : Nenu time ni nammanu na timing ni nammuthanu
—————————————————————————————–
Gabbar singh (pawan kalyan) : oreyyy adiki bayapadi moosthara naku bayapadi thistara
—————————————————————————————–
Siddhappa: me sir ni kalavali
Samba (Ali) : ma sir evarni appointment lekunda kalavaru
Siddhappa: adhi chepadaniki nuvu evadivi ra
Gabbar singh (pawan kalyan) : vadu na fan, nenu chepina okate na fan chepina okate
—————————————————————————————–
Gabbar singh (pawan kalyan) : naku nene poti, natho nake poti
—————————————————————————————–
Gabbar singh (pawan kalyan) :  Nenu trend ni follow avanu, trend set chesthanu
 Gabbar singh (pawan kalyan) :Charitrala gurinchi chetta buttala gurinchi pattinchukonu
—————————————————————————————–
Siddhappa: na popularity thelika ila matladuthunav
Gabbar singh (pawan kalyan) : popularity emundhile passing cloud lantidhi, vathavaranam vedikkithe vanai karigipothundhi, nenu akasam lanti vadini vurumochina merupochina pidugochina nenu epudu okela unta
—————————————————————————————–
Samba (ali): paata vachi padhi yellu aindhi aina power thagala
—————————————————————————————–
Bank: a ammai chala strict andi babu
Gabbar singh (pawan kalyan) : Baaga strict avadaniki school lo head master em kaadhu ga…oreyy oka ammai vaaraniki padudhi inko ammai nelaki padudhi maro ammai savacharaniki padudhi…final ga e ammai aina mogadiki padali padudhi…adhi shrusti dharmam ra
—————————————————————————————–
Recovery ranjith (brahmi) : content unodiki cut-out chalu ra
—————————————————————————————–
  Chivariga….  Market lo athani following chusthunte pichekesthundhii