Here is the emotional speech by Pawan Kalyan from the movie 'Cameraman Ganga tho Rambabu' directed by Puri Jaganth.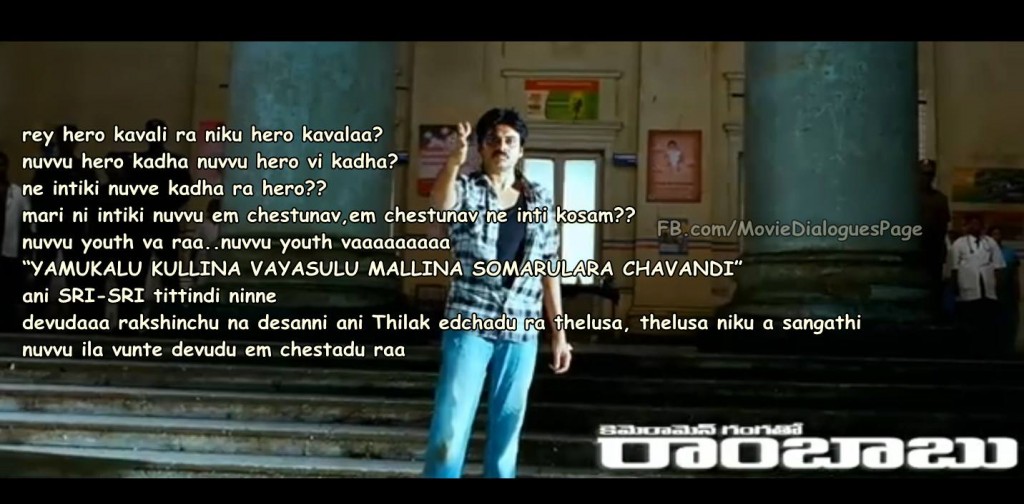 Rojanta pani chesi intinki ragne manamu chese mottamodati pani TV mundu kurchovadam
Alage e pani pata lekunda Khali ga undevadu kuda chese pani TV mundu kurchovadam
Endukante Prapnchamlo lo unna vishayalni manam telusukovali Telisesukovali
Telusukoni em chestunam???
SOLLU meetingulu Petti Yedava salahalu istuntam……hmm Yedava salahalu istuntam…
Rupaayi sampadhana lenodu kudA pradhana mantri thana cabinetlo e e nirnayalu teeskunte dhesaniki manchidho cheppesthuntadu
jeevitham lo cricket bat eppudu pattukoni vaadu kuda sachin tendulkar a over lo a ball ki a shot ela kottalo kuda cheppesthuntadu
sayantram aithe chalu lungi egatukuni ikyarajya samithi lo e nirnayalu thisukunte e dhesaniki manchidhi peru ki idhi manchidhi cuba idhi manchidhi ani ikkade cheppesthuntaru
ippudu Barak Obama ki kuda antha scene ledu ani chala easy ga thelchi paresthadu
hmm…sollu sollu  edava sollu kaburlukasepu
chinnapudu manaku amma gorumudhula thinipinchinattu unna TV channels ani prapancham lo jarige anyayani
kallaku kattinatu chupisthunai
avi chusi manam em chesthunam
kasepu deshanni thittukuntam, naayakulni thittukuntam, prabuthvanni thittukuntam
asaalu yevadiki social responsibility anedhi lekunda poindi
ani thega nokkeskuntam gunjeskuntam piskeskuntam
kaani manam ikkada telskovalsina vishayam enti ante
saamajika baadhyatha kante mukyamynadi vyakthigatha baadhyatha
nuvvu bagunte desham bauntundi
Aina nenu ikkadiki vachindi meeting lu petti mimmalni educate cheyataniki kadu
Naku anta vopika ledu,interest u ledu
kani nenu neto matladataniki vachanu…
neto matladataniki vachanu…eyyyyyyyyy nine nine …Vintunnava…ninne vintunnava?
Asalu niku em damage jarugutondo thelusa?
Kevalam patika mandi M.L.A lu ittu nunchi atu shift aipothe ne thalarata maripothundi adhi niku ok
na…..?
RANA NAIDU ane criminal ne thala mida ekki kurchuntadu adhiniku ok na??
rey ninne…
vadu M.L.A ni kone karchu koda repu podduna me deggara e vasulu chestadu
ne petrol perigipodhi
kandipappu perigipodhi
pilalala school fee's lu perigipothai
bus chargilu perigipothai
vadiki dhoola ekki kurchi ekkite niku dhoola tiripotundi adhi niku ok na?
problem solve chesukovara
problem solve chesukova
time ledha niku,hmm time ledha niku??
niku isthamina leader ni vuru vaste roju anta endalo nilabadatav
ne lover phone cheste gantalu gantalu park deggara wait chestav
kotha cinema release aite tellavarujamuna 5 gantal kalla queue lo nunchuntave
niku istamina hero cinema 10 sarlu 20 sarlu chustav
daniki time vuntundi kani diniki time ledhu.. kada diniki time ledhu
rey okka matney vadilesira… okka  matney ikkada
ikkada panipodhi okka matney vadilesi raaaaaa.
rey hero kavali ra niku.. hero kavalaa?
nuvvu hero kadha nuvvu hero vi kadha?
Nee intiki nuvve kadha ra hero??
mari ni intiki nuvvu em chestunav,em chestunav ne inti kosam
nuvvu youth va nuvvu youth vaaaaaaaaa
"YAMUKALU KULLINA VAYASULU MALLINA SOMARULARA CHAVANDI"ani SRI-SRI tittindi ninne
devudaaa rakshinchu na desanni ani Thilak edchadu ra thelusa, thelusa niku a sangathi
nuvvu ila vunte devudu em chestadu raa
vadini apadaniki nenu veltunna
repu nuvvu Hyderabad vastunav
mana iddaram kalasi veltunam vastunava ledha……
"poradite poyedi emi ledu yedava banisa sankellu tappa" ra ra ra………
hyderabad nadi bodduna rambabu gadu wait chestunadu. Ra ra ra ra……