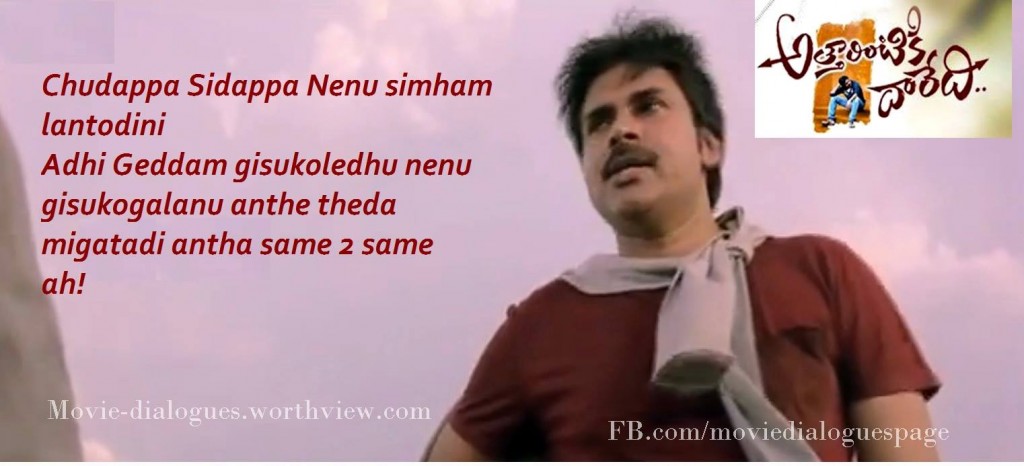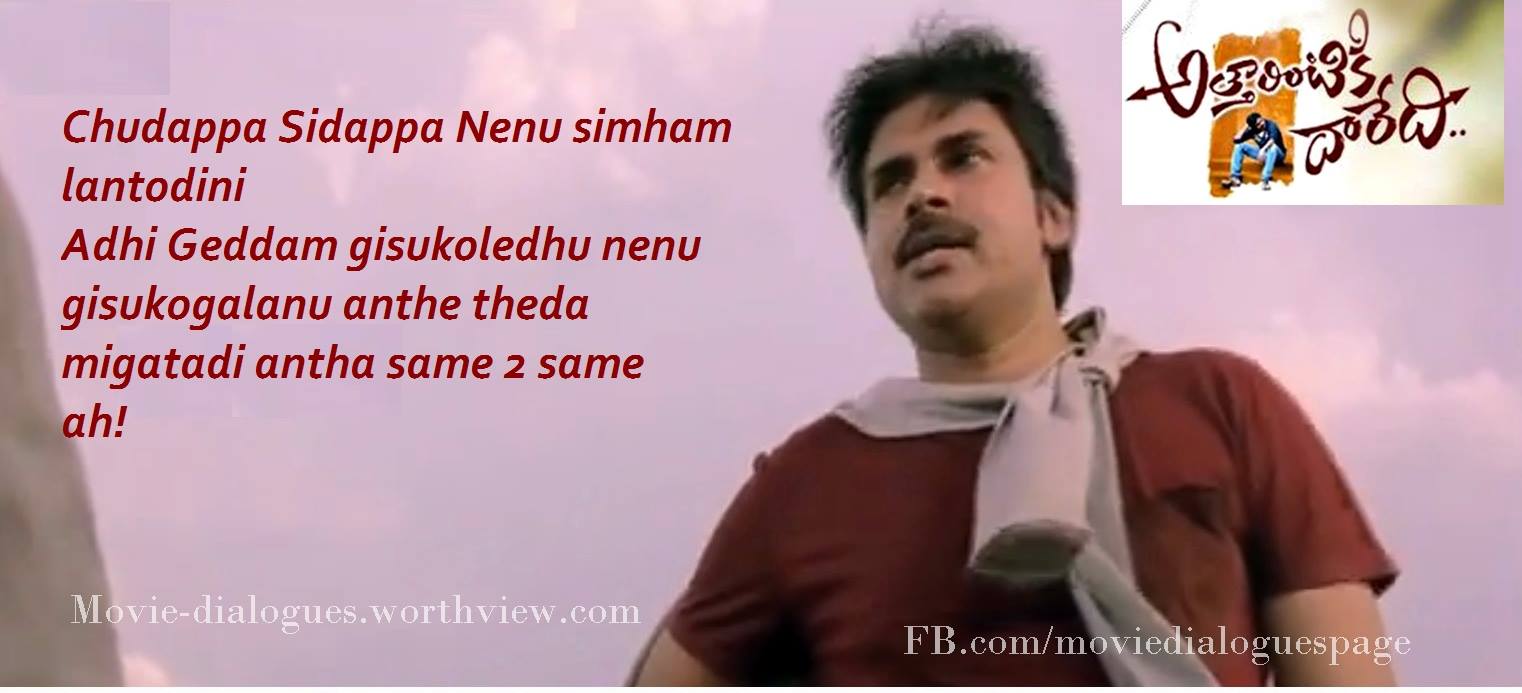 Attarintiki Daaredi is a 2013 Telugu film directed by Trivikram Srinivas starring Pawan Kalyan and Samantha in lead roles. The film was produced by BVSN Prasad under Sri Venkateswara Cine Chitra banner and Devi Sri Prasad scored the soundtrack for the film. Pawan Kalyan and Trivikram both worked for Jalsa movie before which was a blockbuster (Jalsa movie dialogues) .  Due to some agitations in andhra pradesh, movie release has been postponed several times and producers finally decided to release on October 9th on the eve of Dusseera. But unfortunately, 90 mins of the movie has been leaked on the internet and later through pirated CDs long before the movie release. Cyber police has done their job and found the culprit Chikati Arun Kumar, an editing assistant who is responsible for leakage of the first half of film. Because of this piracy damage, movie has been preponed to September 27.
From reliable sources, it is said that Pawan & Trivikram have returned a significant part of their remuneration to BVSN garu,as a mark of solidarity.
Here are some of my favorite dialogues from the movie Atharintiki Dharedhi:
Bullet aarangulame Untundi Kaani Aardadugula Mainshini Champutundi , Adhe Bullettu
Aaradugulunte Ela Untundi … Naa Manavadu GowthamNanda Ala Untaadu…

Gaali vosthundani maname talupu trustam nanna.. danitho paate dhummu kuda vastundi

Adi adapilla ra abhimanam unthadi
nenu kodukuni nanna naku kopamunthadi

Simham padkundhi kadha ani cheppi joolu tho Jada veyakodadhu ra…alage Puli palakarinchindhi kadha ani pakana nilapadhe Photo teyanchakudadhu roiii.

సింహం పడుకుంది కదా అని జూలుతో జడేయ్యకుడదు రా ..

అలాగే పులి పలకరించింది కదా అని పక్కన నిలబడి ఫోటో తిసుకోకుడదురోయ్ …

Anandam ekkada dorukutundi ?
ethuku…dabbulona, andamaina ammayulu velle club lona?
ledhante valla onti midhajarey sabbu lona?

 బిర్యానీ ఎందుకు తింటాం బలం కోసం.. 

కిడ్నాప్ ఎందుకు చేస్తాం పైసల కోసం.

Oreyy Ramudu Bridge Kattalanukunnadi Samudram Daggariki Vacchinappudu, Adavi Lo undagane Plan gisukuni samudhram dhagariki velaledhu
అరేయ్ రాముడు సముద్రం దగ్గరికి వెళ్ళాక బ్రిడ్జి ఎలా కట్టాడో ప్లాన్ చేసాడు కానీ..

అడివిలో ఉండగానే బ్రిడ్జి ప్లాన్ గీసుకొని సముద్రం దగ్గరికి వేల్లలేదురా. 

Yesunathaa! Balavanthamga laakkunnappudu, endhuku laakkunnaavu ani okkallu koodaa adagaledhu… Alaantidhi manchi gaa maari thirigi ichesetappudu endhukandee inni questions vesthaaru??!

 Nenemainaa Benhur cinemani burrakadha laagaa chepthunnanatraa, okkadiney vaaguthunnaanu? Yesunatha.. Appu ivvadam dheniki… Hurt avvadam dheniki.

Manchi valani hurt cheste edustaru.. nalanti vedhavalani hurt cheste edipistaru!! Dani degra kercheif leni time chustanu

Me venaka edho power undhamma …adhi undaga mimalni evaru emi cheyaleru

Sir… 1970s lo drivers ilaa vundevaaru, aa taruvaatha topilu pettukovadam modhalu pettaru. Ippudu valla ownerlaki topilu pedutunnaru.

Pawan: "eeyana evaru?"
MS: "Chiranjeevi ani.."
Pawan: " Acting baane chesthunnaadu. Ippudem chesthunnaaru?"
MS: "maanesaaru sir"
Pawan : "Yenduku?"
MS: "vaallabbayi chesthunnaadu"

Tegipoyetappude Daaram Balam Telustundi…Vellipoyetappude Bandam Viluva Telustundi

 Rey seenuga.. nenu kathilanti vaadini.. kooralu tharagadaaniki panikosthaanu.. peekalu narakadaaniki panikosthaanu. Sir, ee sitiationki dialogue ki match avvsledhanukuntaa! Rey baalugaa, nee mohaaniki aa pilli geddam suitaindhaaraa? Ayinaa memu choodatley.. idhikoodaa, mooskuni vinu!

అరేయ్ శీనుగా నేను కత్తిలాంటి వాడినిరా..

 కూరగాయలు తరుగుతా.. మెడకాయలు నరుకుతా..

 నాకు ఎమోషన్స్ ఉండవు, డ్యూటీ తప్ప. 

Balu koncham encouragement kaavali…
Meeru chuste tempt ayipoddi
maatladithe melt ayipoddi
muttukunte connect ayipoddi
inka ikkade vunte late ayipoddi.

Orey alternatives lennappudu criticize cheyyakudado roy… Jeethalicche vaadi meeda jokelu esthe emavuthundo telusaa.

Brahma deevudu ninnu chesthu chesthu..ardhantaranga ala vadilesi vellipoyade

Naaku music antey ishtam… Naaku ladies antey ishtam…
Evadishtaalu vaadikuntaay… Dheeniki mallee statement okati.

Aadu evadara, lakshmi devi edhuruvasthanante road ki left lo ravali red light dhagara agali antadu

Nadhi ki velaledha swami?  madhi lo nuvundaga nadhi ki nenu ela velagalanu..

 పలావు మిగిలిపోతే పాలేర్లు తింటారు సర్.

 కాని ఆడపిల్ల పుట్టింట్లో మిగిలిపోతే మీరు ఒక్క ముద్ద కూడా తినలేరు.

Palavu migilipothe palerulu tintaru sir..kaani aadapilla putintlo migilipothe miru oka mudha kuda thinaleru

రావిచెట్టుకు పుజచేస్తాం దెవుడంటాం, 

కాని అదే రావిచెట్టు మన ఇంటి గోడలో  మొలిస్తే పికేస్తాం. 

Chudappa Sidappa Nenu simham lantodini Adhi Geddam gisukoledhu nenu gisukogalanu anthe theda migatadi antha same 2 same ah!

 నేను సింహం లాంటోడినప్పా … అది గడ్డం గిసుకోదు నేను గిసుకుంటాను అంతే తేడా…   మిగతాదంతా సేమ్ టు సెమ్.
Adhi patkunte kotinate petukunte sachinate

Andhuke ra evadidhi adidhe patukovali

Paamu paradyananga undani padagapaina kaleyakudadhu roii
And the best part of the movie, Climax dialogues:
O car drivr mi kuthurini enduku pelli cheskokudado mi daggara theory untundi,
Adhe O kotishvarudi kuthuru milanti chettu kinda pleader enduku cheskokudado vala nanna daggara theory undakudadu anthe kada!
Miremo direct ga dhandalatho valintiki velipovchu,
Kani mi kuthuru mattuku suitcase tho kanipisthe matram thattukoleru..
Bujaniki debba thagilindani kutumbane velestharu miru,
Kani miru mattuku gun direct ga thalaku petteyavchu!
Midi prema!
Avathali valadi vyamoham!
Miru chesthe aadarsham!
Vere valu chesthe aavesham!
Miru aristhe mamakaram!
Ma thatha aristhe ahamkaram!
Evari chey pattukoni aa intlo nundi bayataku vachesaro aavida menaludini!
Evari gnapakalatho pathikeluga okayana kalipothunado aayana kodukuni!
Evari kosam akkada oka pranam kottumittaduthundo aayana manavadini!
Konni veela kottlu, 10deshalu, faktrylu, laksha mandi karmikulu ivemi thrupthinivani oka peedavadini!
Nandaki varasudini!
Apptiki ipatki em marindi atha,
Appudu aayana chethilo ippudu eeyana chethilo anthe kada theda!
Apudu ma thatha chesindi thappu aythe ipudu miru chesindi kuda thappe!
Ni kuthuruni vadiley, nen thiskapothanu,
Ipudu miru right aythe apudu ma thatha kuda ryt a,
Nv ra nen thiskapothanu..
Idantha na thelivi thetalatho ninnu convince cheyadnki cheptldu atha!
Nuvu , thatha miriddaru chesina thappani chepalni oddesham!
Aayna avesham ninnu pogotukovadm aythe ni kopam valla paatikelu puttillu vadulukovadm!
Atha ah roju nv intlo nundi vellipoyetpudu okka kshanm gummam daggara kanuka aagi unte niku inko arupu vinpinchi undedi atha!
Ade arupu kani nv vini unte e paathika samvacharalu inkola undedi atha, inkola undedi!
Mamaya chethiki debba thagilindani thathayanu vadilesav,
Ma ammanu champina thathanu nenem cheyali atha!
Intlo 10 elluga pelakunda unna thupaki enduku pelindi, ni valla kaada!
Mari ninnentha dveshinchali,
Aayanentha dveshinchali!
Kani ala nen em cheyalede!
Chinpudu aayana chey pattukone periganu,
E roju kue aayana adigarane ni inti car drvrga cherantj,
Ni car door thisarnu.
Ipudu vachi aayana inti door thiyaleva atha!
Jivithamlo prathi samasya manishiki rendu darulisthundi-
1,prematho unnadi
2,dvesham tho nidinadi,
Nen modatidi enchukunanu,
Nv rendodani slct cheskunnav!
Oksari na dariloki vchi chudu atha! Okasari!
Chinpudu amma enduku ledo theliyadu,
Nv enduku ravo artm kadu,
Chala kopmga undedi atha..
Kantiki kanapadani shathruvulatho bytiki kanpinchani yuddam chesevadini atha!
Bagundadm ante baga undatm kadu atha,
Naluguritho undatm,
Navvuthu undatm..
Anduke men entha sampadinchina nv leni lotu alane undipoyindi atha..
Iptki mem thinetpudu oka kanchn,
Intlo o gadi,
Mem sampadinchina prathi rupayilo oka pavala nikosm alage unchesam atha!
Nuvante maku chala istm atha!
Nv oka mata chepu kastani ni cmpond wall datakunda kapalakastha!
Eppudo okaroju jarigina thappuki pathika samvcharaluga sorry chepthune unnam atha!
Ika wait cheyadm ma vala kadu atha! Ma valla kadu,
Kudurithe kshaminchu,
Ldnte shikshinchu,
Kani men unnam ani gurthinchu atha, daya chesi gurthinchu…
Ekada neggalo kadhu ekada thagalo thelisiana vaadu Goppodu

Please comment your favorite dialogues below.