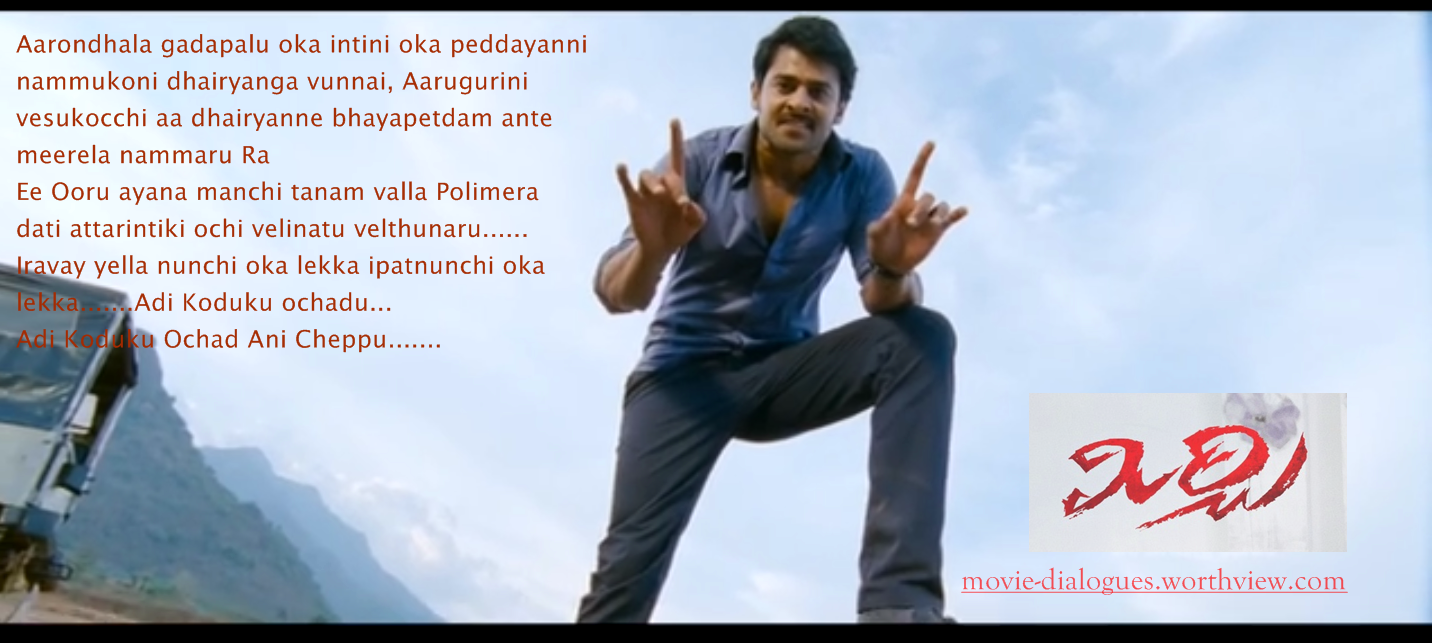 Mirchi is a 2013 Telugu film written and directed by debutante Koratala Siva. The film stars Prabhas, Anushka Shetty and Richa Gangopadhyay in the lead roles and Sathyaraj, Adithya and Nadhiya in pivotal roles. The film was tentatively titled Vaaradhi, but was later renamed to Mirchi. Mirchi was released on 8 February 2013 got positive reviews and Industry Hit at the box office.
Here are some dialogues from the movie Mirchi:
Veelaithe premidham dude poyedhi emundi… Maha aitey tirigi premistaru
Cutout Choosi Konni Konni Nammeyali dude
Nuvvu na vooru raavalante sketch vesi ravali… Adhe nenu ni vooru raavalante hanger ki unna shirt veskunte chalu ra   
raithulaku dabbulu isthe emi cheyalo thelidhi…nelani emi cheyalo matrame telusu
Katti vaadadam modaledithe…naakantey baaga evvadu vaadaledu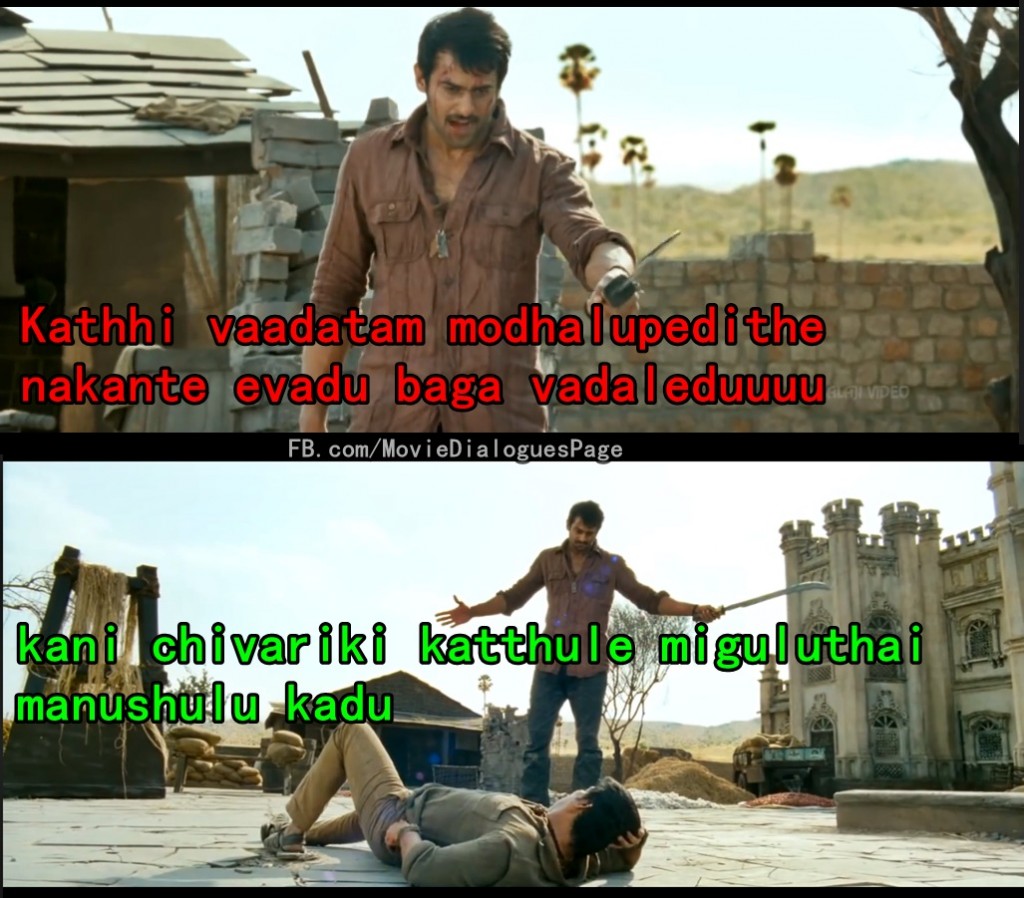 Ila Ayithe Ee Ammayiki Enti..A ammayikee Annayyavi Avvavu  
Baditho Vyaapaarama? Saara Kottu Pettuko Baguntundhi…

Peddarikam ante Padi mandini sasinche adhikaram kaadu Padi mandiki andaga niliche aanandam
Okka chance isthava …ikkada (heart) pettukoni chusukunta
dhesam kaani deshamlo time kaani timelo andamyana oo ammayi help adigite atleast try cheyali kada dude…
Aarondala Gadapalu Oka Intini Oka Peddayanni
Nammukoni Dhairyanga Vunnai,Aarugurini
vesukocchi Aaa Dhairyanne Bhayapetdam Ante
Meerela Nammaru Ra \M/
Ee Ooru Ayana Manchi Tanam Valla Polimera
Dati Attarintiki Ochi Velinatu Velthunaru……
Iravay yella nunchi oka lekka ipatnunchi oka
lekka…….
Adi Koduku ochadu…Adi Koduku Ochad Ani
Cheppu………!!!
Manushulani kottadam champadama magathanam
adhi raathi yugam naati magathanam
dhaniki endhuku dhammu dhairyam
pagavadini kuda premaga dhagara thisukovadame asaila magathanam
dhaniki kavali dhammu