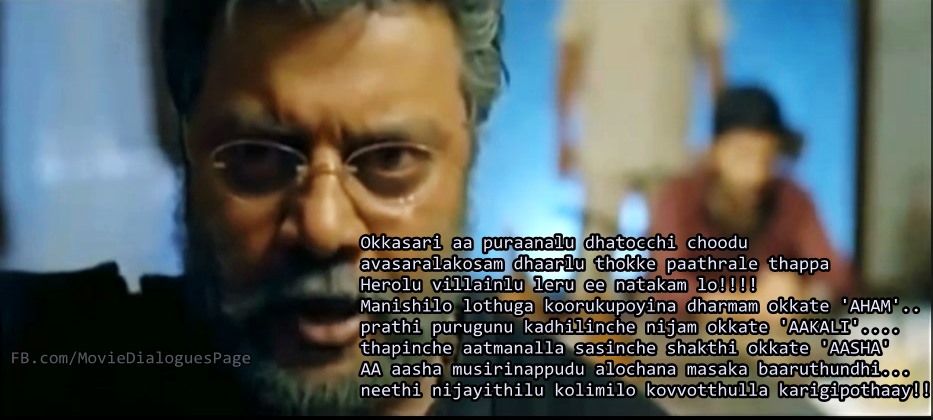 Prasthanam is a 2010 Indian Telugu drama film written and directed by Deva Katta starring Sharvanand, Saikumar and Sandeep. The film was produced by Ravi Vallabhaneni under VRC Media & Entertainment banner.It was dubbed into Tamil as Padhavi.
Here are some dialogues from the movie Prasthanam
Okkasari aa puraanalu dhatocchi choodu
avasaralakosam dhaarlu thokke paathrale thappa
Herolu villainlu leru ee natakam lo!!!!
Manishilo lothuga koorukupoyina dharmam okkate 'AHAM'…
prathi purugunu kadhilinche nijam okkate 'AAKALI'….
thapinche atmanalla sasinche shakthi okkate 'AASHA'
AA aasha musirinappudu alochana masaka baaruthundhi…
neethi nijayithilu kolimilo kovvotthulla karigipothaay!!

Swardhame manishi asalu lakshanam
Niswardham dhaani kaache kavacham

Cigarette ki maryada ki scientific ga link ledhanta naana

Anni rogalaki okkate mandhatra
kaastha chethulu venakapetti noti tho matladadam nerchukondi

Nee velugu lo nenu brathaka lenu ra… nannu cheekatini chesav..

Pourusham antha ne pellam biddalanu poshinchadamlo chupinchu

Kathi meda midhaki vachinapudu kathi tho edhurukovadam thappu kaadhu

Cheekati aaripoina nippe e
Manishi kuda nela midha raalina dhagara nunchi sache dhaga nippu la manduthune untadu..
aakali tho manduthadu,
kopam tho manduthadu,
korika tho, eersha tho
manduthadune edhuguthaadu
aa manta tho kondaru muttukunna vasthuvulalla thagaleduthu mande sudigundalla edhugutharu
inkondharu adhe manta tho gnanani vethukuntu lokaaniki dhari chupe deepala edhugutharu

Gaayam pachi ga unnapudu nuve kadhu pagavadu kuda jaali chupisthadu
aa tharuvatha kalam koluvu lo e daaya dhakshanyalu manchu gadda la karigipothai

రక్తానికి రక్తం, గుండెకు గుండె, వైద్యమైతే
తెగిన భందానికి భంధమే వైద్యం…
Please comment your favorite dialogue below!