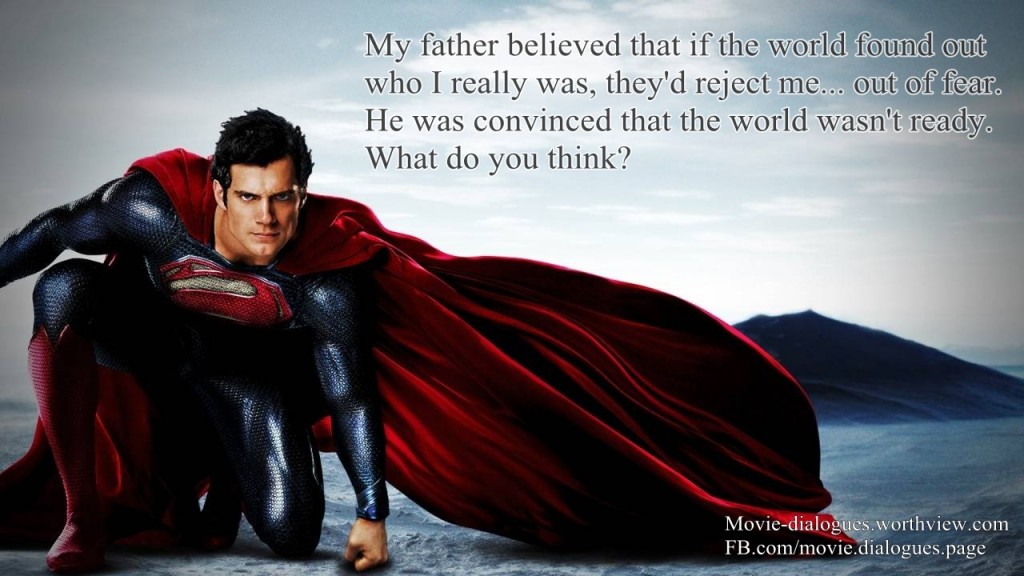 Man of Steel is a 2013 superhero film directed by Zack Snyder, produced by Christopher Nolan, and written by David S. Goyer. Based on the DC Comics character Superman.
Here are some quotes from the movie Man of Steel
Jor-el
[to General Zod] "My son is twice the man you were".
"What is a child dreamed of becoming something other than society had intended? What is a child aspired to something greater?"
"You will give the people an ideal to strive towards. They will race behind you, they will stumble, they will fall. But in time, they  will join you in the sun. IN time, you will help them accomplish wonders."
"Good-bye my son, may our hopes and dreams travel with you."
"How? He will be a god to them."
"You can save them… You can save them all".
Superman/Clark/Kent
[To Jor-El}"I have so many questions. Where do I come from?"
(Younger Kent) "The world is too big, mom."
"I see it…"
(Younger Kent) "Can I just… keep pretending I am your son?"
[To Lois Lane] "It's not an S. On my world it means hope."
"Excuse me?"
[To Lois Lane] "I guess it only happens when you kiss a human"
[To General Swandick] "I was raised in Kansas, what can be more American than that?
"My father believed that if the world found out who I really was, they'd reject me… out of fear. He was convinced that the world wasn't ready. What do you think?"
Lois lane
"What's the S stand for?"
"Well, here it's an S. How about Super…
"How do you find someone who has spent a life time covering his tracks? For some he was a guardian angel, to others a ghost who quite doesn't fit in."
Jonathan kent
"You just have to decide what kind of man you want to grow up to be, Clark. Whoever that man is, he's going to change the world."
"People are afraid of what they don't understand"
"You have to keep this side of yourself a secret"
"You are not just anyone. One day, you're going to have to make a choice. You have to decide what kind of man you want to grow up to be. Whoever that man is, good character or bad, it's going to change the world."
[Clark sees the ship] "It's not from this world, Clark. And neither are you."
"You are the answer, son. You are the answer to are we alone in the universe."
"You ARE my son. And I have to believe that you were sent here for a reason. And even if it takes the rest of your life, you owe it to yourself to find out what that reason is."
General Zod
[To Lara Lor-Van] "You believe your son is safe?"
(screaming) "I WILL FIND HIM!!!"
[transmission] "You are not alone… My name is General Zod. I have journeyed acroos the ocean of stars to reach here. For some time, your world has sheltered one of my citizens. He will look like you, but he is not one of you. To those of you who know of his location: The fate of your planet rests in your hands. I request that you return this individual to my custody. To Kal-El, I say this: Surrender within 24 hours, or watch this world suffer the consequences…"
[To Jor-El] "Not even dead you don't stop giving me speeches"
"No matter how violent, every action I take is for the greater good of my people."
Other characters
Martha Kent: "Then make it small. Focus on my voice. Pretend it's an island out in the ocean. Can you see it?"
Lara Lor-Van: "He will be an outcast. They'll kill him."
Perry White: "Imagine how our world would react if they came face to face with this…"
Faora: "You will not win. For every human you save, we kill a million more."
Pete Ross' Mother: "My son was in the bus! He saw what Clark did!"
Quotes taken from: IGN.com