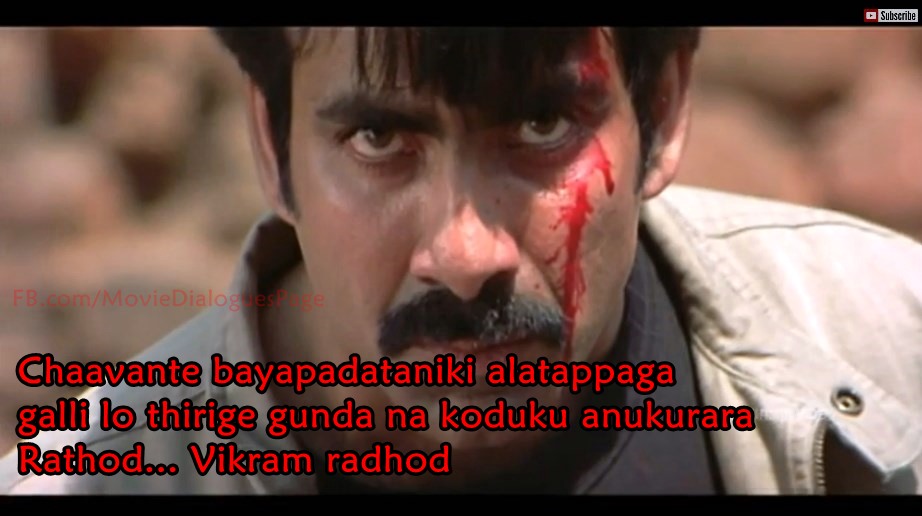 Vikramarkudu is a 2006 Telugu action thriller film directed by S.S. Rajamouli. Ravi Teja and Anushka Shetty play the lead roles and Ravi Teja played a double role.  It released on 23 June 2006 and was a blockbuster.
Here are some powerful dialogues from the movie Vikramarkudu:
Chaavu ante bayapadataniki alatappaga galli lo thirige gunda na koduku anukurara ….Rathod ….Vikram radhod

Bayam naku kadu ra chaavu ki
ontari ga nanu ramane dhammu leka aaru nelalu ga na venaka pichi kukkala thiruguthundhi
nanu thisukelalante natho patu inko padhi mandhi dhaniki thodu kavali

Pourasham tho thippe e meesam midha vottu
pranam ga chuskune na bidda midha vottu
milo okkadu migilina
mikanta oka kshanam mudhu nenu chachhina
meesalu theeyinchi na sevani pudchamantanu ra kodakalara

Inspector!! inka evarana migilara

Naadhi okate korika sir
Chaavu naa edhuraga unnapudu na kalalllo beruku undakudadhu
naa muthi midha chirunavvu undali…na cheyyi na meesam midha undali sir

Police vodu transfer aithe Police station ke velthadu..Post office ki kaadu

Naa Kutiri Vanti Meedha Cheyyi Veyanakkarledhu raa Veddamani Alochana Vachhina Champesta

oka manishini vandhelu gurthinchukodaniki aa manishi vandhellu bathakanakarledu
okka roju chaalu
athadu saadhinchina vijayale athani vandhellu gurthuninchukunela chesthaii

One should have healthy respect towards FEAR! Bayam leni vadu brathadam kastam

Please comment below your favorite dialogue from this movie.