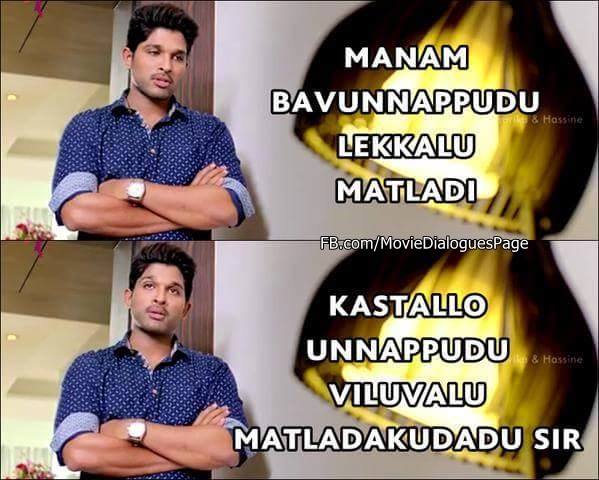 After Julayi, Allu Arjun and Trivikram teamed up again again for this classic family drama movie S/o Satyamurthy with tagline "Veeluvale Aasthi". This film is being produced by S. Radha Krishna under the banner Haarika & Haasine Creations. After a block buster hit Attarintiki Dharedhi, maatala mantrikudu Trivikram wrote some beautiful dialogues about values and morals of life in this movie.
Here are few dialogues from the movie Son of Satyamurthy:
మనం బావున్నప్పుడు లెక్కలు మట్లాడి కష్టాల్లొ ఉన్నప్పుడు విలువలు మట్లాడకూడదు ….

Manam bavvunapudu Lekkalu matladi… Kastaallo unapudu Viluvalu matladakudadhu sir

మా నాన్న దృష్టిలొ భార్య అంటే నచ్చి తెచ్చుకునే భాద్యత పిల్లలు మొయ్యాలనిపించే బరువు కానీ నా దృష్టిలొ నాన్న అంటే మర్చిపోలేని ఒక జ్ఞాపకం మా నాన్న నాకు అనుభవించటానికి బోలడంతా ఆనందాన్ని ఇచ్చాడు , సాల్వ్ చేయటానికి ఒక సమస్యనిచ్చాడు , ప్రేమించటానికి ఒక అమ్మాయినిచ్చాడు వీటన్నిటితొ పాతు గెలవటానికి ఒక యుద్దానిచ్చడు….

Maa naana dhrusti lo bharya anta nachi thechukune bhadyatha, pillalu ante moyalanipinche baruvu… kaani na dhrusti lo naana ante oka marchipoleni gnapakam..maa naana naku anubavinchadaniki boledanta anandhanini ichadu, solve cheyadaniki oka samasya ichadu, preminchadaniki oka ammai ni ichadu, veeti aniti tho paatu…gelavadaniki oka youdham ichadu

Okkosari kavalanikovadam kante vadhulukovadam manchidhi….Gelavadam kante vodipovadam

 
Ma Naana goppa vaadani vandha ki 99 mandhi ante saripodhu…vandha mandhi anali

Ayani Evaru gurthupetukuna oka goppa vadilage gurthupetukovali..

Telivithetalu vadalisindi..avathali vadani mosam cheyadaniko, mosam chestunavadini telsukodaniko kadhu.. panicheyadaniki.

RP: Values aa?, kantiki kanapadani values nilabetadam kosam kalla mundhu una family ni road midhaki thisukochesthava
AA: Chesina appulu thirchadam justice sir
RP: egottadam intelligence sir

Allu Arjun: Pallavi, rendu nellalu kritham engagement lo ring thoduguthunapudu thala dhenchukune undhi chusii siggu emo anukunannu
Epudu nannu vadhannukoni vellipothunapudu kuda thala dhenchukonne undhi
e sari yem anukovalo ardham kaledhuuuuu

Baaga bathiki peru thechukune opika ledhu
Baaga champi peru thechukunedhaa?

Accident ante bike o car o padipovatam kadu,Oka Kutumbam road meda padipovadam

karra virigpothadi…..gudda(cloth) chirigipothadi annav anuko……dippa pagilipothadi

Aayana radio lanti vaaru babu…
Aayana maata manam vinadame gani mana maata ayana vinaru
Brahmi: Manaki Akarlenidhi kavali anukune vadu ROGI
kalavsindhi sampadhinchukune vadu BHOGI
Unnadhi dhaanam chese vadu TYAGI
Allu Arjun: Mari YOGI ante evaru sir
Brahmi: PRABHAS act chesina movie nayana

 Dhoosukelle banam, race kelle gurram.. venakki tirigi chudavu.. 

Akkadunna andarlo maa Naanna Poyaranna baadha kanna , aayana chesina appulu mem teerustama leda anna bhayame ekkuvga undi

కోటి రూపాయల లాటరి లో ముప్పై లక్షలు టాక్స్ కింద పోతుంది,అందుకే అదృష్టం డిస్కౌంట్ లో వొస్తుంది అంటారు.కాని దురదృష్టం మాత్రం బోనస్ లో ఒస్తుంది

(Koti rupayala lottery lo muppai lakshalu tax kindha pothundhi…andhuke adhrustam discount lo vasthundhi,..dhuradhrustam matram bonus la vasthundhi)

Telisi chesedi mosam, chesaka telisedi thappu

Entha kasta padda..America vadu appadam cheyaledu, Pakistan vadu paayasam kaayaledu

Manalni vadhu anna ammai matram tirgi vasthe aa feeling chala high untadhi

pilla ni chusthe evarana premistharu…kathi chusinapudu chemata patanapudu kanipinchu

Entha edisthe antha prema undhanukunte ma naana poyinandhuku nenu geevithaantam edichina saripodhu

AA : manaki engagement ayina ammayi ni evado pelli chesukuntadu
Adha : nen yogesh tho love lo unna
AA : evado love chesina ammayitho manaki engagement jaruguthundhi
Nitya: naku aithe ninnu pelli cheskovadam istam ledu
AA : nen preminchina amayitho naku epudu engagement avuthundhi paramam(Ali)
Sam : manam pelli cheskndama intiki vachi matladu
Ali to Bunny: Adrushtam vachi neeku shake hand iche lopala daridram vachi lip kiss pettesindi

Ravanudiki padhi thalakayalu undachu
vadi kota ku lankini kapala undachu
Ashoka vananiki address theliyakapovachu
kani avani dhatadaniki oka anjaneyudu eppudu ana ravachu

Oka Samasya….
Rendu dhaarulu …..
Mugguriki samadhanam cheppali …..
Naalugu vaaraala kritham kaasina pandhem ….
5 vela mandhi vunna vooru ….
6 vandhala mandhi private sainyam vuna Niyantha …..
7 adugulu veyyaalsina ammaayi …..
8 vela gajaala sthalam…..
9 nimushaalu migilina samayam…..
10 adugula dooram lo chaavu …..

 

 
Stay tuned for more dialogues….