A Aa ( Anasuya ramalingam vs Anand vihari) is a Telugu romantic drama movie directed by Guruji Trivikram Srinivas produced by S. Radha Krishna under his banner Haarika & Haasine Creations. It's Nithin's first movie as a hero under Trivikram direction and Samantha's second movie after Attarintiki Dharedhi.  Mickey J Meyer has composed wonderful tunes for the film and while Natarajan Subramaniam and Dudley handled the cinematography. Just like any other Trivikram movie, this film too has some solid one liners and motivational dialogues. Here we compiled few dialogues from the movie. Please add your favorite in the comments below.
Nithin dialogues: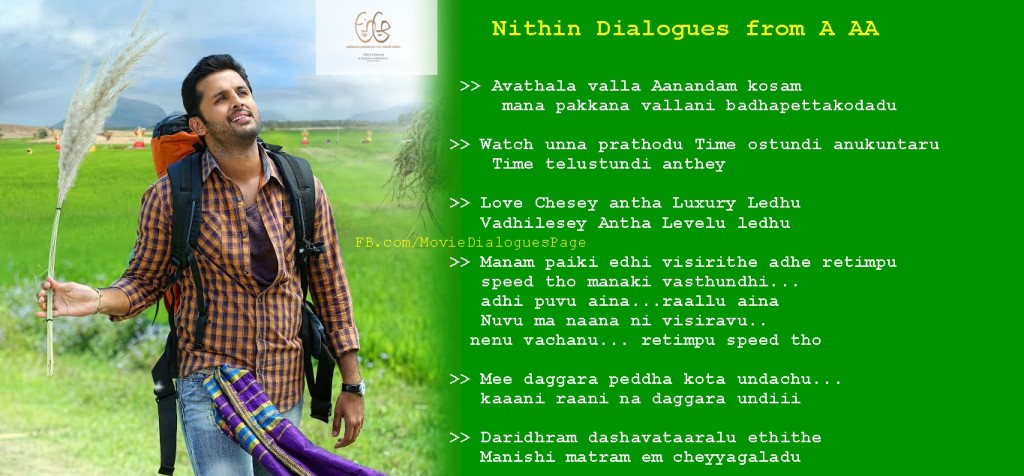 Anandam anedhi mana gelupulo vethukkovali
pakkavalla gelupulo kaadhu.
yeduti valla anandam kosam mana thoti vallanu
baadhapettakudadhu
Watch unna prathodu Time ostundi anukuntaru
Time telustundi anthey
Love Chesey antha Luxury Ledhu
Vadhilesey Antha Levelu ledhu
Manam paiki edhi visirithe adhe retimpu speed tho manaki vasthundhi…adhi puvu aina…raallu aina
Nuvu ma naana ni visiravu..nenu vachanu… retimpu speed tho
Mee daggara peddha kota undachu…kaaani raani na daggara undiii
Daridhram dashavataaralu ethithe
Manishi matram em cheyyagaladu
Samantha dialogues:

Pakka pakkane vunde aksharalu parichayam kavadaniki pathikellu pattindi
Nenu Varshaakalam lantidanni undedhi rendunelalaina samvatsaramanta pantaku upayogapadatanu
Varsham vache varuku goduku therichi petukuni
vachina tharuvatha musese vadini "Ananda Vihari" antaru
Daddy – Nuvu pedha killadi

Nithin and Samantha:
Nithin: Okka roju lo lakshya rupailu karchu pedithe bhayam veyadha cheppu
Samantha: migatha 9 rojulu 10 vellu kuda avaledhu…adhi chusi dhairyam ravatledha
Nithin: naku kopam vasthe gattiga kodathanu
Samantha: indhaka car door ni kottinatu kottaku..thattukolenu
Rao Ramesh dialogues from A Aa: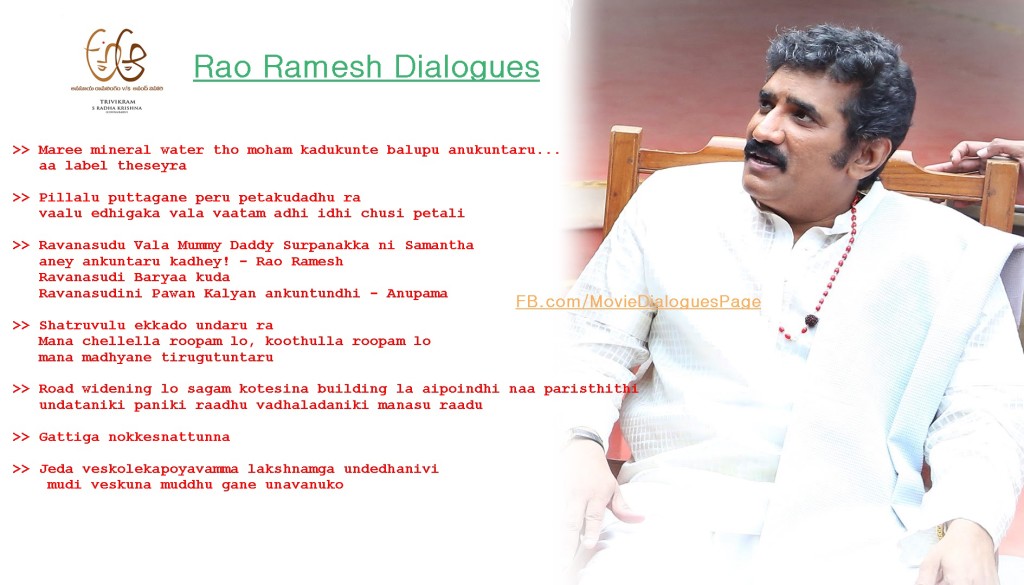 maree mineral water tho moham kadukunte balupu anukuntaru… aa label theseyra
Pillalu puttagane peru petakudadhu ra
vaalu edhigaka vala vaatam adhi idhi chusi petali
Ravanasudu Vala Mummy Daddy Surpanakka ni Samantha ney ankuntaru kadhey! – Rao Ramesh
Ravanasudi Baryaa kuda Ravanasudini Pawan Kalyan ankuntundhi – Anupama
శత్రువులు ఎక్కడో ఉండర్రా! ఇదిగో మన చుట్టూ ఇలా కూతుళ్లు, చెల్లెళ్ళ రూపంలో తిరుగుతూ ఉంటారు!
[Shatruvulu ekkado undaru. Mana chellella roopam lo, koothulla roopam lo mana madhyane tirugutuntaru]
[[ Cinema antha Oka ethu aithe.. Climax lo Rao Ramesh dialogues oka ethu]]
Road widening lo sagam kotesina building la aipoindhi naa paristhithi undataniki paniki raadhu vadhaladaniki manasu raadu
ఎండాకాలం పూట మధ్యాన్నం అన్నంలో మామిడిపండు కలుపుకుని తినేసి టెంకె పెరట్లో పడేస్తే మళ్ళీఎండాకాలం వచ్చే సరికి అది చెట్టు అయిపోద్ది
కానీ ఒక మావిడి తోట పెంచాలి అంటే పది మంది పాలేర్లు, వంద మంది పనోళ్ళు, ఇరవై రైతులు కావాలి .. రెండూ ఒకటే అనుకుంటే ఎలా ?
Gattiga nokkesnattunna
Jeda veskolekapoyavamma  lakshnamga undedhanivi
mudi veskuna muddhu gane unavanuko
జడేసుకోలేక పోయావామ్మా..లక్షణంగా ఉండేదానివి..!! ముడేసుకున్నా ముద్దుగానే ఉన్నావనుకో
Naresh dialogues:
Nuvvu tirigocchinappudu thisukelina bagulu teesukocchavanukunnanu, kani moyaleni bandhalu teesukocchavanukoledu
Valladiginappudu nuvvu ivvaledu.  Mari vallu adigindi nuvvu icchi choodu ela vadhantaro chudham
Maatladakundaa vunte MUNI antaranukunnanu. Kaanee Moogodu anesaru